The Enterprise E (from Star Trek Nemesis) hits comic and specialty stores this week along with the greatest Venom action figure of all time. No really.
I first glimpsed this latest stab at a Venom figure way back at Comic Con International last July and to say I've been eagerly awaiting this release would be an understatement. As a huge fan of the character in his classic incarnation, I'm pumped to have such a complete version of him to add to my Marvel Select shelf.

This is the classic, original, and very much iconic version of Venom that debuted back in 1989 in the pages of Marvel Comics' Spider-Man titles. And man is this Eddie Brock at his most psychotic and monstrous!
Marvel toy collectors have been clamoring for it for years, and we're finally giving it to them — a figure of the classic Spider-Man villain Venom! Depicting the original Venom, Eddie Brock, this symbiotic Spidey foe stands over 8 inches tall with 16 points of articulation, and comes packaged with multiple interchangeable heads and hands, to depict the anti-hero in numerous looks from his long history! Comes in oversized collector packaging. Designed and sculpted by Jean St. Jean!
The second offering from Diamond is a little less exciting, but also very cool and definitely worth your wile if you're a Star Trek fan- it's the final version of the Enterprise shown on film from the original Trek timeline.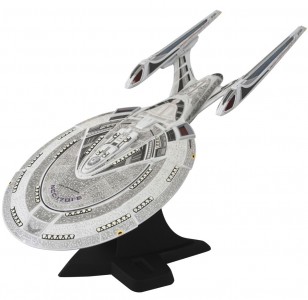 DST's continuing mission: to bring you cool new electronic Star Trek ships! The newest version of the Enterprise, the NCC-1701E, makes its triumphant return in an all-new paint scheme from Star Trek: Nemesis. Packaged in a "Try Me" window box so customers can test its movie-accurate lights and sound effects, the Enterprise "E" measures 19 4/5 inches long by 8 1/2 inches wide and comes with a display stand.
Star Trek Nemesis was the last film to have the Enterprise E and her crew featured before JJ Abrams created a separate, alternate timeline and ran with it for the first (and impending second) movie in a completely new series. I'm actually also a pretty big Next Generation fan, so this version of the Captain Picard's command definitely does hold a soft spot in my heart.
If I had to pick between the two releases, I'd go with Venom- but both are definitely worth your time. If you want them, get thee to your local comic shop or specialty store asap as they're both on store shelves and ready to be beamed onto your toy shelves right now.
Continue Reading >>> Source link