Diamond Select Toys' latest series of action figures plays off a Disney classic. Tron Select is coming this fall, and pre-orders are open now.
Fight for the users
One of Disney's less popular properties, Tron still has a rabid fan following today. Though that original movie came out in 1982 and the sequel in 2010, Tron remains a big name. Maybe as much for nostalgia as anything else, but the fact remains.
Now the digital world of that original film is getting the full action figure treatment. From Diamond Select Toys, Tron Select is set to offer up a trio of characters in what I presume will be its first wave.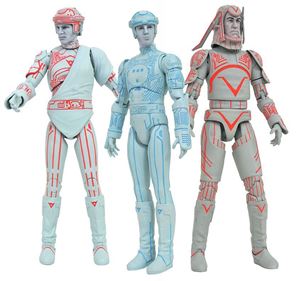 Tron Select Series 1 Assortment

A Diamond Select Toys Release! Halt, user! For the first time ever, the classic sci-fi movie Tron gets movie-accurate action figures! Each 7-inch scale action figure is based on the look of a character from the 1982 film – Tron, Sark and Infiltrator Flynn in his red infiltration disguise. Each features approximately 16 points of articulation and interchangeable disc accessories and effects, as well as a piece of a buildable Recognizer vehicle! Packaged in the display-ready Select action figure packaging, with side-panel artwork for shelf reference. Designed by Eamon O'Donoghue, sculpted by Gentle Giant Studios.

(Item # JUN192380, SRP: $29.99/ea.)

DST press release
More to come?
There's no mention of additional waves in the DST press release today, so don't get too excited. Though a few things might lend to there being much more planned for this license.
For starters, there's that "Series 1 Assortment" designation. That certainly could mean that this is the first of, well, a few waves at least. Then there's the character selection.
Tron and Sark are obvious inclusions, even in a one-off collection. But what about Flynn in his "infiltrator' garb? That seems a little more out there. Why not just give fans a basic version of Flynn?
And finally, there's the build-a-figure of the Recognizer. If you don't know, Recognizers are massive flying vehicles that were featured in both Tron movies. They're not tiny.
So unless DST has a lil' Recognizer planned, they're going to need a lot more figures to build one than just these three. And all you have to do is take a look at the company's Ghostbusters line to see that they don't think small when it comes to connect-together buildables.
With all of that, I think it's a safe bet to assume this is just the beginning for what DST has on the drawing boards. As it stands though, it's the only wave that's been officially announced, and the only one that's up for pre-order.
Expect to see the Tron Select Series 1 Assortment on store shelves this fall.
Continue Reading >>> Source link