As usual, Diamond Select Toys has a nice cross-section of stuff coming up for release at comics and specialty stores.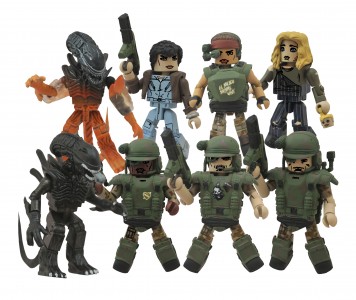 Hitting this coming Fall to be specific, pretty much all of this stuff is worth a look, depending on your fan level of course. For me, those new Aliens Minimates might be a little too tough to overcome. Likewise, that Savage Hulk is pure awesome. If you've read through any of our Diamond coverage in the past I'm sure you've seen my praise-heaping when it comes to the company's jumbo-sized figures like Abomination and Juggernaut.
I make it a habit to buy every single one that they release. It's not that the regular-sized Marvel Select figures aren't cool and all, but the larger scaled characters are just so great that it's hard to not pick them up. And Savage Hulk falls right into that. Of course, it doesn't hurt that this is also my favorite version of the character, but I digress.
Anyway, it's a great assortment of stuff, and we've got the full list below. Everything that you see here should be on store shelves some time this Fall too, so make your plans accordingly.
Aliens Minimates 2-Packs Series 2 Asst. – A Diamond Select Toys release! The game is not over, man! DST returns to the world of the classic 1986 action movie Aliens with an all-new assortment of 2-packs! Four new sets include Pvt. Vasquez with Pvt. Hudson, Jumpsuit Ripley with Newt, Pvt. Frost with Burning Alien and a rare, one-per-case set that has Pvt. Crowe with Attacking Alien and Eggs! Each 2-inch Minimates mini-figure features 14 points of articulation and fully interchangpeable parts and accessories. Packaged on a blister card. Designed by Art Asylum! (Item #JUN152094, SRP: $9.99/ea.) http://www.diamondselecttoys.com/aliens-minimates-2-packs-series-2-asst
Batman Animated Series Harley Quinn Resin Bust – A Diamond Select Toys release! Add some laughs to your bust collection with the Harlequin of Crime! Dr. Harleen Quinzell, a.k.a. Harley Quinn, is the second bust in DST's line or resin busts based on Batman: The Animated Series! Capturing Bruce Timm's timeless design in three dimensions, this approximately 6" tall bust of the Joker's madcap assistant sits atop a decorative base inspired by the show and comes packaged in a full-color box with a certificate of authenticity.  Limited to 3,000 pieces!(Item #JUN152096, SRP: $59.99) http://www.diamondselecttoys.com/batman-the-animated-series-harley-quinn-resin-bust
Batman Animated Series Femme Fatales Batgirl PVC Statue – A Diamond Select Toys release! Gotham City's gorgeous guardian is the next Femme Fatales PVC Statue to come out of Batman: The Animated Series! Based on Bruce Timm's timeless designs, this approximately 9-inch tall statue depicts Batgirl, a.k.a. Barbara Gordon, in full crimefighting mode, and is the perfect addition to your Femme Fatales statue collection. Comes packaged in a full-color window box. Also available: Supergirl and Poison Ivy! (Item #JUN152097, SRP: $45.00) http://www.diamondselecttoys.com/batman-animated-series-femme-fatales-batgirl-pvc-statue
Back to the Future Time Machine Bottle Opener – A Diamond Select Toys release! Remember that time you wanted a refreshing rink, but didn't have a bottle opener? Well, now you can plan for the future with this sculpted 4" metal bottle opener depicting the famous time machine from Back to the Future! It won't travel back in time to open past drinks for you, but the magnets on the wheels will keep it mounted on your refrigerator so it will always be there, time after time. Comes packaged in a full-color slip case. (Item #JUN152100, SRP: $18.00) http://www.diamondselecttoys.com/back-to-the-future-time-machine-metal-bottle-opener
Femme Fatales Tarot Version 2 PVC Statue – A Diamond Select Toys release! The first Tarot Femme Fatales statue was one of DST's most popular ever, so DST is reteaming with Broadsword Comics for an all-new take on the titular enchantress! Featuring an entirely new sculpt, this PVC statue of Tarot, Witch of the Black Rose, measures approximately 9 inches tall atop an open-book display base, with a large sword and her pet cat Pooka.  Packaged in a full-color window box. Sculpted by Sam Greenwell! Coming soon: Raven Hex Version 2!(Item #JUN152099, SRP: $45.00) http://www.diamondselecttoys.com/femme-fatales-tarot-15th-anniversary-pvc-statue
Godzilla Classic Rodan 1993 Vinyl Figural Bank – A Diamond Select Toys release! Whether you be a friend, foe, or Godzilla himself, beware the coming of Rodan! The giant winged pteranodon began his film career as a threat to Godzilla and the world, but since then has become one of Godzilla's occasional allies, battling invaders from outer space to protect his home planet. This 8" vinyl bank is based on Rodan's appearance in 1993's Godzilla vs. MechaGodzilla II, and has a wingspan of 10 inches! With a coin slot on the back and a removable head, you'll be able to save your change for the next Godzilla bank release! Sculpted by Gentle Giant Studios!(Item #JUN152102, SRP: $29.99) http://www.diamondselecttoys.com/godzilla-classic-rodan-1993-vinyl-figure-bank
Gotham Minimates Series 1 Box Set – A Diamond Select Toys release! One of the biggest shows on TV just got tiny! Based on the smash TV show Gotham, this box set of four different Minimates mini-figures kicks off a full line of characters taken from the lawless streets of Gotham City.  Detective Jim Gordon, Chief Sarah Essen, forensic scientist Edward Nygma and brutal businessman Black Mask each stand approximately 2" tall with 14 points of articulation, and each features interchangeable parts and accessories. Packaged on a full-color blister card. Designed by Art Asylum! (Item #JUN152105, SRP: $19.99) http://www.diamondselecttoys.com/gotham-tv-minimates-series-1-box-set
Justice League Animated Green Lantern Battery Vinyl Bank – A Diamond Select Toys release! Always wanted to join the Green Lantern Corps, but couldn't afford the gear? Now you can save the galaxy and save some green at the same time! This nearly 12" tall vinyl bank is designed after the Green Lantern power battery seen in the Justice League animated series, but with a coin slot on top and an access door in the base, making this more than just your average prop replica. It's just like a real power battery, except instead of storing energy, it stores your change! Packaged in a clear polybag. (Item #JUN152104, SRP: $29.99) http://www.diamondselecttoys.com/justice-league-animated-green-lantern-battery-vinyl-bank
Podcast Pals Kevin Smith & Jason Mewes Vinimates Vinyl Figure 2-Pack – A Diamond Select Toys release! Jason Mewes and Kevin Smith have visited your home through the magic of podcasts, but now they can live in your home forever, as vinyl figures! Better known as Jay and Silent Bob, Jason and Kevin are best buds, whether they're on stage, on-screen or in a recording studio, and now these 4" Vinimates vinyl figures of the pair are packaged together, joined forever in plastic matrimony (at least until you open the box). Sculpted in the Minimates block-figure style, these two static figures come packaged in a full-color window box. Designed by Art Asylum! (Item #JUN152095, SRP: $19.99)  http://www.diamondselecttoys.com/podcast-pals-kevin-smith-jason-mewes-vinimates-vinyl-figure-2-pack
Marvel Select Savage Hulk Action Figure – A Diamond Select Toys release! Whenever a new Hulk figure appears in the Marvel Select line, the results are always "smashing"! Based on the character's earliest appearances, this all-new Savage Hulk action figure wears the tattered outfit that harkens back to his origins, when nuclear scientist Dr. Bruce Banner was caught in an atomic blast and first transformed from a man into a monster. Sculpted by superstar Marvel Select sculptor Gabriel Marquez, this Hulk figure stands approximately 9 3/4″ inches tall with 14 points of articulation. He comes packaged in oversized Select-style packaging, perfect for display or storage, with reference artwork on the spine. (Item #JUN152106, SRP: $24.99) http://www.diamondselecttoys.com/marvel-select-savage-hulk-action-figure
My Little Pony Dr. Whooves Vinyl Bank – A Diamond Select Toys release! The mysterious pony with the hourglass cutie mark is now the mysterious sixth vinyl bank in the My Little Pony series by DST! Based on his appearance in My Little Pony: Friendship is Magic, this pony (sometimes known as "Time Turner") sets all the clocks in Ponyville, and is sure to delight any fan of the popular animated series. Not just a pretty sculpt, this 7" vinyl bank has a coin slot in the base for storing your spare change, and an access door for getting it out again. Packaged in a clear polybag. (Item #JUN152103, SRP: $22.99) http://www.diamondselecttoys.com/my-little-pony-friendship-is-magic-doctor-whooves-vinyl-bank
Plants Vs. Zombies Garden Warfare Select Deluxe Yeti Figure – A Diamond Select Toys release! Are the Plants winning in your Plants vs. Zombies toy collection? Even the odds a little with DST's deluxe action figure of the Zombies' secret weapon, the Yeti! Measuring approximately 8 inches tall, this oversized Zombie comrade features multiple points of articulation, and comes packaged in the famous Select-style packaging, perfect for display or storage, with reference artwork on the spine. (Item #JUN152101, SRP: $24.99) http://www.diamondselecttoys.com/plants-vs-zombies-garden-warfare-yeti-bank
Superman Animated Logo Metal Bottle Opener – A Diamond Select Toys release! Faster than a speeding bullet! More powerful than a locomotive! Able to remove a bottlecap in a single bound! Draw on the strength of the Man of Steel with this solid metal bottle opener in the shape of the Superman logo from Superman: The Animated Series. Like Superman himself, this 4" opener can bend metal and remove bottlecaps with ease, and two magnets on the back allow it to hover on your refrigerator until it's time to swoop in and save the day! Packaged in a full-color slipcase. (Item #JUN152098, SRP: $18.00) http://www.diamondselecttoys.com/superman-animated-logo-metal-bottle-opener
Continue Reading >>> Source link