EA sets their next Mirror's Edge title for an early 2016 release.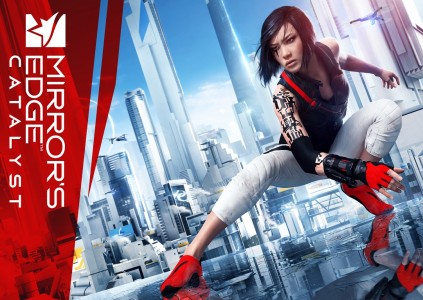 Announced at E3, the follow up to the acclaimed original and next Mirror's Edge game will be hitting in February. Subtitled Catalyst, the game will once again star parkour master Faith, but won't be a continuation of the series as this one's a prequel.
Heading back in time and telling the tale of the fast-footed heroine, Mirror's Edge Catalyst follows Faith as she uncovers the dark conspiracy in the city known as Glass. You'll be exploring the massive heights from the tippy tops of those gorgeously clean and high-tech skyscrapers, all the way down to the grungy tunnels that run underneath them.
EA promises new activities to engage in and a monster of a city to run thorough and explore, thanks to the power of the newest generation of consoles.
"When we set out to bring Mirror's Edge to a new generation of gamers, we knew we wanted to deliver on the potential of the first game – building an iconic heroine in Faith, bringing a beautiful, stylized world to life, and delivering fluid first person action," says Sara Jansson, Senior Producer at DICE. "In Mirror's Edge Catalyst, you will get to feel what it's like to glide across the skyline of the city. You will get to know what it feels like to be a projectile who plows through your opponents. And you will get to experience Faith's story."
As you might imagine too, there are a few incentives to get you to pre-order the game too. Both the Combat Runner Kit or Speed Runner Kit will be available to those who plunk down their cash ahead of time.
The Combat Runner Kit includes unique in-game items including a combat-themed Projection Shader, changing how a player appears in their friend's game world, a Runner Tag to stand out in the leaderboards, and a unique background to customize a player's Screen Hacks. The Speed Runner Kit also comes equipped with a Projection Shader, Runner Tag and unique Screen Hack background, but the features are more themed to the speed of their skill.
So there you go, choose your poison; Combat or Speed Runner. Mirror's Edge Catalyst will be available in both retail box and digital form for the PS4, Xbox One, and PC on February 23rd, 2016.
Continue Reading >>> Source link