Electronic Arts really wants Star Wars Battlefront to be perfect.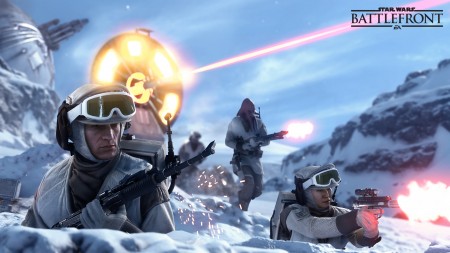 Sort of an interesting story here about the new Battlefront and the quest to "get it right." Certainly there are a lot of fans who already have a bit of annoyance with the game too, so they'd better. Now, if you're in the same camp as me, then you're probably wondering what fault anyone could find with Battlefront, which quite honestly look spectacular.
Well more or less, it comes down to the fact that many have some reservations about there being no space-based fights in the game, with all the big battles being constrained to the famous worlds of the saga. I think there are probably some elements of people simply not wanting there to be another good Battlefront too, as you might have noticed that there's a glut of 'haters' rolling around in gaming land.
In any event though, EA wants to get the game as close to perfect as it can (see above for the reasons) and now says that they will delay the DICE-developed title if it isn't up to snuff. The game is expected to be one of the biggest titles of the Holiday season though, especially with the new Star Wars trilogy kicking off in December, and postponing its launch into 2016 would be… not great.
Fortunately, EA CEO Peter Moore tells website MCV that that's not looking like it's going to happen. Saying that the company "can't ship it if it doesn't work or the quality isn't right," Moore went on to explain that if there was a major issue with the title then EA would have no choice but to "bite the bullet" on a delay. He actually cited Battlefield Hardline as an example of them doing just that in the past, as that game needed more time in the incubator and saw a March 2015 launch as a result.
There's probably no need to fret though, as Moore also said that "that's (a delay) not going to happen." Apparently the title is already playable with 40 players in a match at once and is "rock solid". And that's a very good thing, as seeing this one slip into 2016 would be rough.
Still though, this one bears watching, as DICE does have a reputation for being involved in issues with its games (see Battlefield 4). So for now, cross your fingers.
Source: MCV
Continue Reading >>> Source link