Yes, it might sound like a strange lineup of events for Epix for next month, but March is set to bring in a little something for everyone (including a free weekend).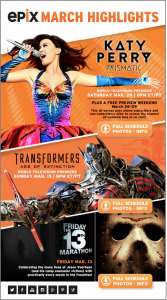 For starters, the cable channel kicks things off with a little Friday the 13th marathon on… Friday the 13th.
Jason Voorhees must be in heaven since we're about to get our second Friday the 13th (the date, not the movies) in two months- it is his favorite day after all. And this coming 13th is set to be a big one for the monstrous slasher as all the Friday the 13th films, save parts V and VII, will be playing back to back throughout the notoriously unlucky day. If you're a fan of the films, or just love a good creep-out horror flick, then you'll want to mark your calendar and call out of work/get the DVR ready.
After that, things take a more high-tech turn with the TV premier of Transformers: Age of Extinction. The latest TF film may have not scored with the critics, but as usual it was a massive blockbuster at theaters and made all kinds of money. Yeah, whine comes to Transformers films people basically like to do two things; complain about and watch them. If you missed it on the big screen, or just want to check it out again, this is your first chance to catch it on Epix. The film will broadcast on Sunday, March 15th at at 8pm Eastern and Pacific, which is a nice loud, explosive way to end the weekend that starts with the aforementioned slashing.
And finally, capping off the month, will be the world TV premier of singer Katy Perry's Prismatic World Tour. This Epix Original Concert Special is directed by Russell Thomas and produced by Done + Dusted, with Katy Perry and Direct Management Group. Epic has aired a whole mess of these specials including acts like Madonna, Seth McFarlane, Brittany Spears, and ColdPlay, so they know what they're doing with them. If you're a Katy fan, then you don't want to miss this one.
Katy Perry's Prismatic World Tour on Epix is set to open up on March 28th at 8pm Eastern and Pacific. Coincidently, there's also a free preview weekend that's hitting just in time for this special concert, as Epix is free-to-watch March 26th through the 29th. So even if you're not a usual subscriber to the channel, you'll be able to catch the concert, which is nice as a dancing shark… or two even.
Continue Reading >>> Source link