Seeking escape from a bleak reality, Eternal Descent: Cobalt focuses on Rick Drake filling his world with music, struggling to cope with a society that sees his dark gift as a condition to be medicated. Let's see what happens in Eternal Descent Cobalt #1.
The Patient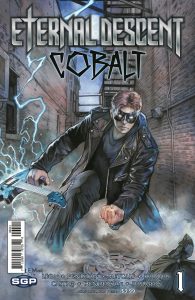 Cobalt opens to the notes of doctor Chara Gianopoulos, working with patient Rick Drake. Rick has a remarkable form of Chronic Hallucinatory Psychosis. Just what we want to spend our time with, a crazy person.
But the truth is so much stranger than just that. Rick sees strange things. And he sees a lot of them. His psychosis, or visions, are so wild, that he is on the strongest regimen of medication allowed. This does nothing to actually stop the visions, but merely allow him to cope with them. Add to that, sometimes it's not visions. Sometimes it effects his other senses, such as smell or hearing. So, right out of the gate, we know that Eternal Descent Cobalt will be more than the 'average' comic.
The Other Side Of The Coin
In order to cope with his condition, Rick spends most of his time by himself playing his guitar. Almost every other sensory input is tainted to him. Seeing things, hearing things, smelling things. Even in the music, life would be quite a challenge.
Dr. Chara Gianopoulos refuses to give up on Rick, determined to figure out how to work out what is going on. Even going so far as offering Rick to stay with her and her fiance, and calls on one of Rick's previous doctors for a consult.
Rick's adventures see him being attacked and arrested, for a start. He is beginning to understand what is going on with his visions. Does that mean he can control them? Or will he allow them to lead him?
Creative Stylings
The writing feels a bit strange. A majority of the narrative is provided as clippings from his therapists' journal. We understand what is going on, though it just feels a bit strange at times. That being said, there are moments where I'm glad this is the way they went with the narration.
The artistic stylings are a bit plain, when they need to be. When the psychosis takes over, there is nothing plain to be found. Incredible shapes, shades and depths of things that could appear in nightmares. The art team of Eternal Descent Cobalt have definately made a strong impression. If for no other reason, I will be checking out future issues, just to see how things look from Rick's perspective.
Eternal Descent Cobalt #1
Writer: Georgia Ball with Llexi Leon
Art and Cover: Tom Fleming (Cover), Jason Metcalf (Pencils), Tony Kord
os (Inks), Juan Castro(Inks), Garry Henderson (Colors), Chris Summers (Colors), Charles Pritchett (Letters)
Continue Reading >>> Source link