Boone and Glum make their way through the Ether, learning more and more things are not what they seem. Find out why in Ether #3.

You can check out what you missed with Ether #1/#2 here.
Eerie Ether
The Ether is a very strange place to the uninitiated. Fairies, portals and golems are just the tip of the iceberg of what you can find in these many lands. And such is where we find Boone and Glum. Now add in the fact that our heroes are on a murder investigation.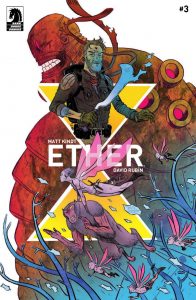 When Boone and Glum believe they are on the right track, a mysterious copper golem stands in their way. And as such, nothing here is quite usual, so the investigative skills get no reprieve here. Boone brings a knife to a gun fight, while Glum ambushes from out of sight.
Boone learns that he recognizes some of the machinations within the golem, which tell him where to go. Of course, Glum is suprised to have a destination provided so quickly from the outsider.
Boisterous Boone
Along the travels, Boone regails Glum with stories of his previous trips into the Ether, and his studying the Faerie Kingdom. We do not learn a great deal, aside from the fact that it was less than a simple visit at the time. Though in the end, Boone's actions were enough that things must have been smoothed out, as they do not seem to object to his return.
Once they arrive in the Faerie Kingdom, it is quite a sight. The kingdom looks like a twisted Seuss-like world, sprawled with written runes and flying creatures. Boone and Glum meet an old acquaintance in ms. Violet Bell. Boone proceeds to apologize for an old grievance, which Violet brushes off as a trivial matter. However, Violet is looking nervous and sweating profusely. Boone catches on, though not quick enough. He is soon seperated from his friends, much to his dismay.
Grumpy Glum
Grum and Violet have a bit of a standoff, before heading out to follow Boone. They find themselves in front of an aberration in reality. We learn a bit as to why Violet behaved the way she did, though it is of little consequence now. Boone is on his own. And they are not sure where.
Cut to a scene from what we can only assume is Boone's past. We will have to wait until issue #4 to learn what is going on in this new location.
Ethereal Stylings
David Rubin takes us on quite a journey in the Ether issues. With a style that leans toward Seussical at times, and other times you wonder where he comes up with some imagery. Such things make a reader wonder if such places could really exist. And if so, could they possibly be as outrageous? Such use of color in the differing areas make me wonder if there are some regions I would never visit, and some I may never leave. Kindt's writing has a way of making you love some strange characters right off the bat. My first impression of Glum was that he was supposed to be a guy you didn't want to like. However, I can't imagine reading this comic without him.
Ether #3 hits store shelves on January 25, 2017.
Ether #3
Writer: Matt Kindt
Artist: David Rubin
Cover Artist: David Rubin
Continue Reading >>> Source link