Ash and Annie find themselves at a Christmas-themed amusement park, but find anything but amusement in Evil Dead 2: A Merry Deadite X-mas.

Evil Dead 2: A Merry Deadite X-mas
Evil Dead 2: A Merry Deadite X-mas finds Ash strolling around town with Annie Knowby. Annie and Ash have fought their way back from Hell, and boy has time flown by. Ash sticks his foot in his mouth talking about spending her holiday season with a clone she made, rather her family, or ex-boyfriend, who are back in Hell. It takes some work, but Ash is learning that he's not the most sensitive.
Cut to his modest hotel room, and Ash finds an apparition intruding on his private time, to plead for his help. Robbie Dawes took a job at the Christmas theme park. He finally found an interesting read in the stock room. Unfortunately, his readings broke Hell free. Robbie heard the spirits talk of wiping the earth clean, for their own peace on earth.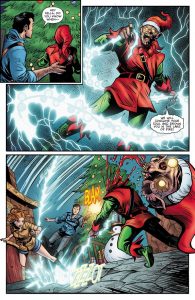 Ash employs his particular colorful view of the environment, before asking an employee why the park wasn't full of kids yet. Ash is greeted by no typical employee, but one of the legion of wrinkled bloated deadites, claiming Ash will drown in a lake of fire. The deeper into the park they venture, the stranger the deadites become: dolls, food products, and even holiday decorations.
They happen upon a couple of unexpecting allies while in the park, before encountering even more of the frightening holiday deadites.
Holiday Horrors
The unique telling of a deadite Christmas by Georgia Ball is sure to bring entertainment and gore, whether you love Christmas and horror stories, or are a scrooge at heart. The story may feel a bit light, but there is plenty of action, all the same. Ash always seems to be more entertaining when he has a few friends (or additional enemies) to work off of. Riccardi, Summers and Esposito really make this issue pop, I'm glad I had the chance to read it. I have no doubt you will enjoy it as well.
Evil Dead 2: A Merry Deadite X-mas
Writer: Georgia Ball
Art: Vincenzo Riccardi (line), Chris Summers (colors) Taylor Esposito (letters)
Evil Dead 2: A Merry Deadite X-mas is brought to you by Space Goat Publishing.
Continue Reading >>> Source link