What's better than having the whole Fallout series for the PC in your library? Having it all packed neatly into a case that looks like a mini-nuke.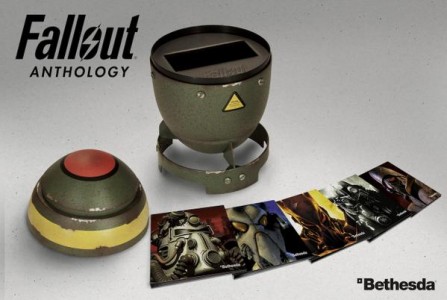 More to buy for Fallout fans this year, as Bethesda just announced a special anthology collection of the game series will be making its way to the PC. And this isn't just a bunch of digital content, as per your usual offerings on the PC these days, no this is an honest to goodness physical release that'll include an explosive extra as a case.
Well, maybe not explosive in a literal sense, but it's all kinds of awesome nonetheless. Seen above, the case comes complete with a 'bomb sound', as well as everything ever released in the series, including all the extras for Fallout 3 and New Vegas, as well as room to spare for your copy of Fallout 4, which'll be right around the bend by the time this one hits retail.
Here's what you get:
Fallout 3: Game of the Year Edition, which includes The Pitt, Operation: Anchorage, Broken Steel, Point Lookout, and Mothership Zeta.
Fallout: New Vegas Ultimate Edition, which includes Dead Money, Honest Hearts, Old World Blues, Lonesome Road, Gun Runners' Arsenal, and Courier's Stash.
Fallout Tactics
Fallout 2
Fallout
Now that's a nice little addition to the old gaming shelf. The Fallout Anthology will be available on September 29th, 2015 and will cost you… only $49.99 USD. That might not sound cheap to some, but I was expecting a bit more, so I'm pretty pleased.
Oh and, you might want to pre-order now. Lets all remember that the PIP boy edition go Fallout 4 didn't stick around all that long, and Bethesda says this one will be available in limited quantities as well.
Continue Reading >>> Source link