Fantagraphics Books will publish a shared superhero universe featuring the world's most fanta*stic heroes: ALL TIME COMICS.
Fantagraphic Books to Publish New Shared Universe Series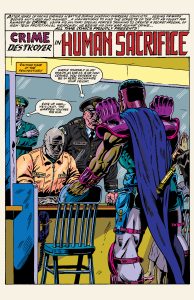 This shared superhero universe will feature the world's most fanta*stic heroes: Atlas, Blind Justice, Bullwhip, and Crime Destroyer. Each issue will feature both new and classic comic book creators. The goal is to unleash stories that no other publisher would dare to publish: a stunning series of six comic books featuring startling stand alone, interconnected adventures chock full of retro crime fighting.
The first issue, ALL TIME COMICS: CRIME DESTROYER #1, will feature cover art from acclaimed cartoonists Jim Rugg (STREET ANGEL) and Johnny Ryan (PRISON PIT). The first issue will also contain the last art by legendary Herb Trimpe, co-creator of Wolverine. Other issues will be presenting art by Rick Buckler (VIXEN 9), Ben Marra, (TERROR ASSAULTER: O.M.W.O.T.) and more.
ALL TIME COMICS is the joint venture of brothers, Josh and Samuel Bayer. Josh is an underground comics artist as well as a teacher. Samuel Bayer is an acclaimed director, launching his career with Nirvana's "Smells Like Teen Spirit" video.
Retro Cool Comics
"I am so excited by the combination of writers and artists that we have working on ALL TIME COMICS," says Sam Bayer. "We're bridging generations of creators — veterans from the 70's with contemporary creators — to make comics that are retro cool."
"ALL TIME COMICS is both an expression of affection for the books that shaped our lives, and a link to a pre-internet time when comic book culture was more precious and rarefied. It originates from a lifetime of research and our devotion to the comics medium," says Josh Bayer. "This project is a chance to work with not only acclaimed independent figures like Noah Van Sciver and Ben Marra, but to spotlight superstars of the field like Al Milgrom and Herb Trimpe. I see ALL TIME COMICS like an Obelisk: something that can be admired but with a greater significance beyond itself. It stands for all comics."
Follow ATC via Twitter at @alltimecomics and via Facebook @ALLTIMECOMICS.
ALL TIME COMICS will hit stores in MARCH, 2017

Continue Reading >>> Source link