We're only a few days out form the big dad-day and if you're still stuck for an idea for your own dear old dad, we've got a few suggestions that just might hit the bullseye.
Fresh from the mind of technology expert Melissa Thompson comes a little list of goodies that any pop would love getting on the day to celebrate all things 'dad'. We've got choices ranging from smart-watches (which I can personally attest is a great gift) to high-end laptop sleeves and everything in between. So scroll down, hit the links, and get ready to deliver a happy dad-day. Uh, just remember to get the cake okay?
1)     For the Mad Scientist (or Gourmand): Deluxe Molecular Gastronomy Kit
If Dad fancies himself to be the next Ferran Adrìa, this is the gift to end all gifts. More than a cookbook, this Deluxe Molecular Gastronomy Kit is a laboratory in a box. Containing everything that the adventurous food scientist needs for extraordinary feats of edible science—from calcium lactate to food-grade syringes—the Kit turns meals into a magical adventure. The hardbound recipe book contains instructions for 40 dazzling palate pleasers, from first course to last. Available on Uncommon Goods, and Amazon, $198.95)
2)     For the Bookworm: Oyster for Unlimited e-books
Whether he prefers Golding or Grafton, Oyster is the perfect gift for the e-bibliophile. Offering unlimited access to a growing library of 500,000+ books, Oyster's monthly subscription model – the "Netflix" for books – is a gift that will deliver happiness in perpetuity. Instead of risking single-book-buyer's remorse, give Dad the gift of intellectual freedom.  With its hi-res photography, handpicked typography, and clean interface, Oyster makes digital reading a delight. Available atOysterbooks.com for iOS devices, $9.95/month)
3)     For the Grillmaster: iGrill Mini
Ever wish Dad spent more time chatting at summer barbecues instead of hovering over the grill? With the brilliant iGrill Mini thermometer, he will know when the steaks are done from up to 150 feet away. (Touch football, anyone?) This single-probe, wireless Bluetooth Smart thermometer takes the guesswork out of grilling. As soon as the food on the barbecue reaches the optimal temperature, the iGrill Mini sends an alert to Dad's mobile device telling him it's go-time. Say goodbye to burnt meat and spend more time with Dad! (Available at Apple stores and directly fromiGrill, $39.99)
4)     For the Inner Boy Scout: In-1 Multi-tool Utility Smartphone Case
Dad can probably remember the joy of receiving his first Swiss Army knife: every tool he'd ever need, all in one. And when he got his first smartphone, it was the same: a camera, a phone, the Internet, video, you name it.  Give that joy all over again with the In-1 Multi-tool Utility Case, the Swiss Army knife of phone cases. With a full set of screwdrivers, pens, a nail file, tweezers, scissors, a screen protector, and a kickstand for easy video viewing, he'll truly be prepared for anything. And it's TSA-approved. Currently this case is available for the iPhone 5/5S, with other models in the works (Available at In-1 Case, and Amazon,  $44.95).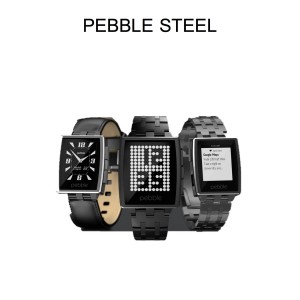 5)     For the Stylish Technophile: Pebble Steel
The Pebble Steel digital watch combines modern, cutting-edge design with technical wizardry. While I've always worn the best G-Shock watches within my budget – the Pebble Steel is the most fashion-forward smart watch on the market  – combining the latest in wearable technology – a daylight-readable display, a tricolor status LED, and the ability to receive his text messages, emails and control his music – all from his wrist. With dozens of apps to choose from—Google Maps, remote controls, daily weather and stocks, fitness, games—Dad will never miss a flight, be late to an event, have to get up to adjust the thermostat again (or have to miss a workout, with a virtual coach on his arm) – all while sporting the chicest chronometer on the market (Available at Pebble, $249).
6)     For Dads on Dawn Patrol: Game Golf
The best part of golf is the game – not the scorecards and the miniature pencils. Let Dad maximize the time he has to enjoy the game, by adding technology and science to the art of this precision sport. Game Golf chronicles every shot of every round played in a user-friendly app. With the Game Golf system, Dad will never have to guess how far he actually hits his 8-iron. The Game Golf uses a GPS and chip reader to determine which club he used and how far he hit the ball with every swing. When it comes time for the 19th hole? This smart app let's golfers share and compare their games, and amplifies the enjoyable parts of the game, while leave the onerous details in the sand trap. (Available at Apple stores, and on GameGolf.com, $249)
For the Dad who also rocks it on the tennis court or the baseball field in addition to golf, the Zepp sensor will help get his swing into shape across activities. (Available at Apple stores or onZepp.com, $149.99)
7)     For the Dashing Dad: Mujjo Sleeves Laptop Case
Gone are the days when laptop cases only came in bulky black neoprene: enter the Mujjo Sleeves Collection, which will guarantee there will never be another dull day at work again… at least style-wise. Made of sturdy felt and gorgeous tanned leather, these handcrafted cases offer protection and security with panache. With storage compartments for documents, earplugs, and even built-in leather slots for credit cards and an SD card, Dad will be ready to take on the concrete jungle in style. Mujjo.com, $69)
Continue Reading >>> Source link