Frankenstein's Monster is one of the most iconic in the stable that Universal lays claim to, and the One:12 Collective figure of him should please fans big time.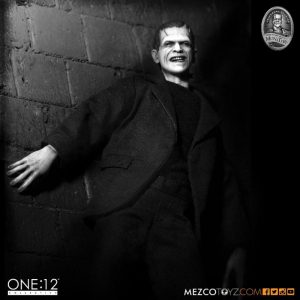 I'm a fan of the One:12 Collective line from Mezco Toys, so even though I'm definitely not the target market for old Frank here, I have to admit this is a pretty awesome translation of the classic monster. Personally, I've never been a huge fan of the property, but I can admit when something's cool beyond words, and man is this figure boss.
Put together in the One:12 style, Frankenstein's Monster (yes, we're getting technical here) comes with the now-standard (and awesome) scale and sculpt that you'd expect from the series.
He's got super-realistic (well, realistic for him anyway) head sculpts, as well as real cloth clothing that actually fits correctly and looks 'right'. If you're a collector of 12″ figures and are used to seeing the clothing that most companies put out at that scale, well, this is leagues better than most. He's also got tons of articulation (a One:12 standard) and has special forearms (sutures!) and "asphalt spreader boots", which are unique to this particular character.
Here's what's in the five-panel, collector-friendly window box, other than the figure itself:
Standard head
Angry head
Posing hands with attached forearms (L&R)
Grasping hands with attached forearms (L&R)
Functioning shackles with real metal chain
Display base with posing post
Frankenstein's Monster is set to arrive just in time for Halloween, and should ship out in the September/October timeframe.
Continue Reading >>> Source link