300k units (including both Birthright and Conquest) have sold during the launch weekend.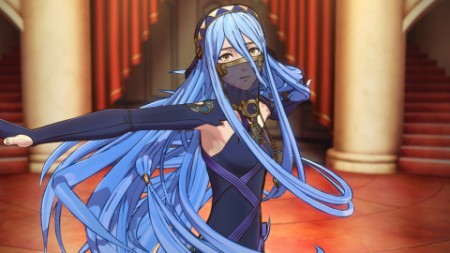 Fire Emblem Fates is off to a swell start, selling 300,000 units on the Nintendo 3DS, making it the fastest selling Fire Emblem of all time.  This is unsurprising, considering the series has only gained momentum since the launch of acclaimed Awakening, and even less so when you consider how many people purchased two copies (one of each version).
Nonetheless, Nintendo claims Fates has sold "more than five times as many units as 2013's Fire Emblem Awakening," which more than accounts for those who double-dipped.
It seems like just yesterday Fire Emblem moved only acceptable numbers and was in danger of ending with Awakening.  I'm sincerely excited that the series hasn't only grown: it's become a solid pillar in Nintendo's handheld plans.
Birthright has sold more copies than Conquest, though the latter came "close behind."
Third story-line Revelation will release on March 10th for $20 as DLC for Birthright or/and Conquest, and is expected to "shed new light on the characters and settings from the other two games."
Continue Reading >>> Source link