The entire first map pack has been described, and information on new classes and characters abound.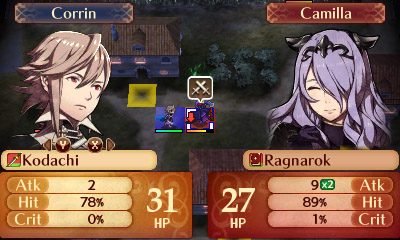 The Fire Emblem Fates website is deliciously thorough, and while the pictures of new characters, the world map, and small videos of different classes and gameplay elements in action are fun, the real meat comes from the descriptions of the first Map Pack DLC.
Map Pack 1 (available for $17.99) includes 11 maps that release over the course of the next couple months.  Each map is available for purchase separately for prices ranging from free to $4.49 (which includes two maps), and include a myriad of varied rewards.  One map, "Boo Camp" ($2.49),rewards players with lots of experience points (not unlike a similar Awakening DLC map), while "Anna on the Run" ($1.99) lets players recruit series' mainstay Anna.  There are remixes of maps from older games (including Radiant Dawn's Elincia's Gambit stage, among other), as well as another Beach Brawl, which, like a similar map in Awakening, rewards players with "Special Event Illustrations."  Presumably, this means bathing suit shots, a la Awakening, and presumably, somebody's rear will be censored.
To see more about each separate version of the game, as well as further details on the DLC, be sure to check out the extravagantly animated official site.
Fire Emblem Fates: Birthright and Conquest editions will launch on February 19th in North America.
Continue Reading >>> Source link