Two of the best detectives that the DCU has to offer are teaming up. Their target? Who (or what) left that mysterious button in the Batcave.
Who watches…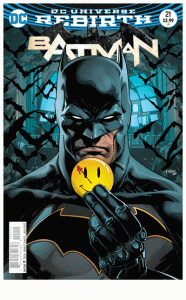 There are a lot of questions as to what's happening in the DC Universe right now. And those queries have been around since the beginning of the terrific Rebirth era. It was then that we saw that the Watchmen are now influencing the DCU proper in some way.
It's been rumored, among other things, that Doctor Manhattan himself might have huge part to play. Namely, that he's basically going to turn out to be the creator of the DCU as we know it. Or, at the very least, the one that's been messing with it.
That aside though, we've got something solid here to talk about. This is only a four issue arc that's set to play out in Batman and The Flash numbers 21 and 22, but it's a biggie. And I have to imagine that it's setting the stage for something much bigger.
Here's the synopsis:
Courtesy of the Batman team of writer Tom King and artist Jason Fabok, along with The Flashwriter Joshua Williamson and artist Howard Porter, the two greatest detectives in the DC Universe unite to unravel the mystery behind a certain blood stained smiley face button stuck in the Batcave wall. However, what begins as a simple investigation soon turns deadly when the secrets of the button prove irresistible to an unwelcome third party – and it's not who anyone suspects! This is a mystery woven throughout time, and the countdown starts here!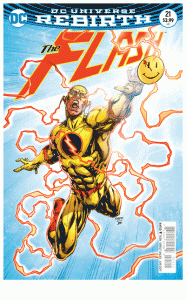 Gotta tell you, I can't wait. I'm a DC fan to begin with, but the Rebirth initiative has been a revelation. With all the major characters getting back to basics, and plenty of cool new ideas present (like the original DCU Superman and Lois), it's been a real treat after years of trying to shake things up. Sometimes, things that aren't broke really don't need fixing.
All four issues that the event will play out in will feature lenticular covers, like the ones that you see here (click them to see the effect). All will be done by Jason Fabok too, so you know they're gonna be pretty great. If the next two look anything like the first two, this is going to be quite the set.
The lenticular editions will cost a bit more than usual though, and clock in at $3.99 USD. Don't worry though, if you're not into 'em, the standards will be out there too at the usual $2.99 cover price.
Check 'em out when the first issues of the four part "The Button" crossover land on the stands and arrive via digital download on April 19th.
Continue Reading >>> Source link