December 19, 2012
News
1,086 Views
Optimum subscribers have some pretty awesome animation to check out as of today as Funimation is now on channel 500 for subscribers of the cable service.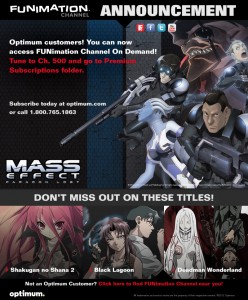 The animation company provides a bunch of pretty awesome stuff to check out including a great looking Mass Effect 'toon called Paragon Lost.
Subscribers can tune (is that still what it's called?) to channel 500 and check the 'Premium Subscriptions' folder.
If you don't have Optimum right now and still want in on all the Funimation action, just check out optimum.com or call 800-765-1863 for more info or to sign up.
Continue Reading >>> Source link