The developers behind the Android-based GameStick console must be pretty darned happy as the little controller/console has already blasted away it's goal on the crowd funding platform kickstarter.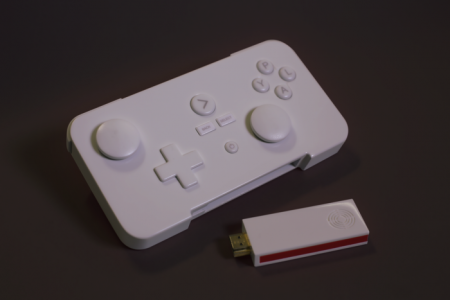 Originally PlayJam was only looking for $100k (USD) to fund and produce the GameStick console. As of this writing though, the company has already pulled in more than double that- $253,929 USD. That's beyond impressive and just goes to show the level of support that's out there for bringing mobile (and inexpensive) gaming home.
"The response from the Kickstarter community has been truly overwhelming. We are confident in our product and what we hope it will mean for gaming but we were taken aback at how quickly the message was adopted," says Anthony Johnson, CMO, PlayJam."There is no better feeling than having hundreds if not thousands of people endorse your idea."
Honestly, what's not to like? PlayJam is promising that the GameStick will be offered at a super low cost (with a $79 USD price point), will play Android games with an impressive initial list of publishers (like Disney and MadFinger), and will be an open system. They actually encourage folks to tinker and make their own software for the GameStick- not something you see every day.
"The Most Portable TV games Console Ever Created" is currently scheduled to ship just in time for Fall- in September 2013. The kickstarter is still moving forward as well (click here for that), if you'd like to get in on it for yourself.
PlayJam has added a few more tiers of pledging with an eye towards developers too, so if you're into making games, you really might want to have a look and get on board.
Note: Image shown is a prototype model, and may not represent the final look of the GameStick
Continue Reading >>> Source link