The father of the saga, George Lucas himself is joining Hasbro's 6″ Star Wars action figure line, complete with Stormtrooper disguise.
They suspect nothing
When it comes to Star Wars, there are few real-life figures as revered as George Lucas. The director not only crafted the movies in the original trilogy (and prequels), but also basically created the entire galaxy far, far away. Suer, he might've sold the whole shootin' match to Disney, but if you're thinking of the father of Star Wars, it's George.
So it's only fitting then, that he's getting a new Star Wars action figure. Just announced yesterday, Lucas will be immortalized in a Stormtrooper disguise as a member of the 6″ line, The Black Series.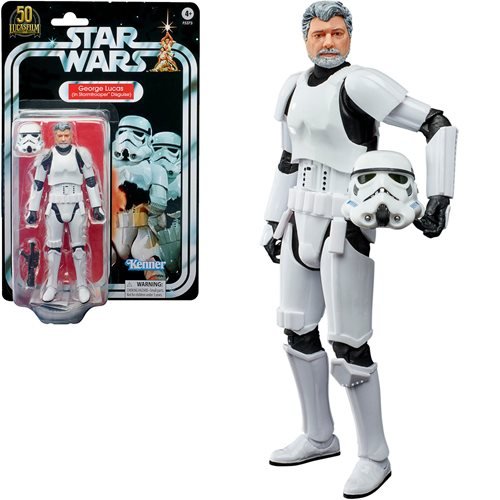 The figure will sport the updated Stormtrooper body type that saw release last year. If you don't have one of those yet, it's a fantastic sculpt that has a ton of great articulation and looks like a much more expensive figure in my opinion. Of course, he'll have a removable helmet as well, with a pretty good looking Lucas sculpt underneath.
He also comes packing a standard issue blaster, and has one of those fantastic retro-style cardbacks. Yeah, he'd be cool to open up and stand on a desktop, but this figure just screams to be kept carded.
Pre-orders are open right now, including from our sponsors at Entertainment Earth. Priced in at $26.99 USD, you can expect them to start shipping in March 2022.
Purchases made via EE links will result in BG receiving a small commission
Continue Reading >>> Source link