Publisher IDW is about to bring the second volume in it's G.I.Joe Complete Collection series to market, and it's one not to miss for fans of the classic series.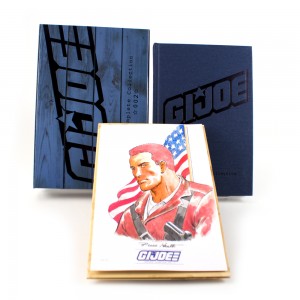 G.I.Joe was one of very favorite books as a kid. WAY more serious and action packed than the cartoon that it was based upon, the Larry Hama penned epic was maybe the greatest example of a piece of licensed storytelling completely eclipsing the original product that I've ever seen. These were awesome comics and made G.I.Joe actually have some weight and Cobra feel like the terrifying villains that they were.
Now IDW has assembled another master collection of Hama's books into their G.I.Joe Complete Collection Vol.2 tome. This big book collects 12 issues of the A REAL AMERICAN HERO series and comes in a faux-wood case with a real cloth cover and each one is signed by both Hama and artist Russ Heath.
Like IDW's other collections of the same line, there will be two editions of the book made available. Both will bear the signatures though and both will also include an original piece of artwork by Heath. Cobra Commander, Baroness and Snake-Eyes were all sighted by IDW as pieces that Heath has done, so these are sure to be some very cool pieces.
And while both books do share some similarities in that they both have signatures and artwork- the Blue edition will actually include that art in the form of a watercolor. How cool is that? If you want to jump on this one while it's hot, pre-orders are being taken right now here on IDW's site.
Show some hustle if you want one though, these don't tend to hang around all that long.
Continue Reading >>> Source link