Chase McCain hits the Wii U in pursuit of blocky bad guys today.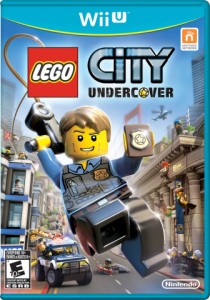 Without a doubt, this is the LEGO game I would have loved to have had when I was a kid. LEGO has tons of licensed sets like Star Wars and superheroes, but back in the day there was only basic themed stuff- like LEGO City. I can remember many an hour building sets and setting them up on my shelves… houses, the parking garage, the hospital, and of course- the police station.
And classic LEGO fans should fee right at home with Traveller's Tales' latest LEGO title LEGO City Undercover. The game follows police officer Chase McClain on a path through LEGO city as he chases down the nefarious criminal mastermind Rex Fury with the same LEGO charm that you'd expect.
LEGO City Undercover is the first LEGO video game to be based on the real-life LEGO City play sets, one of the best-selling, most popular LEGO themes around the globe. Not only will players encounter familiar play sets while playing, but the game also features a large cast of fully voiced characters with their own distinct personalities. Players can also explore original locations and jump into more than 100 vehicles, including sports cars, motorcycles and even a selection of aircraft.
Also very cool is that LEGO actually has a set on store shelves right now that includes Chase, a burglar, a cop, and some vehicles and accessories. You'll also find a code in the box that'll unlock the included LEGO toys in LEGO City Undercover, which -as a LEGO fan- is pretty awesome.
LEGO City Undercover is available now for the Wii U with a prequel title on the way shortly for the 3DS called LEGO City Undercover: The Chase Begins. That game will be arriving on April 21st.
Continue Reading >>> Source link