Golden Mario Amiibo calls Wally World home and it kind of sounds like you've got one chance to nab him.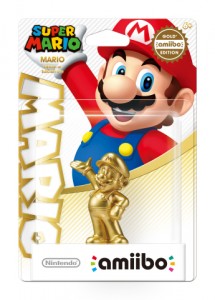 Unless you like the idea of the secondary market, March 20th is a date that you'll want to circle on your calendar. Available exclusively at Walmart stores (there are 3,000 of them), the gold Mario Amiibo is getting ready to be one of the mist hotly sought after toys-to-life figures pretty much ever. And when you consider that that's a genre that includes the Skylanders, that's really saying something.
You might also recognize that March 20th date as the release of another item from Nintendo, that being Mario Party 10 for the Wii U. This latest Mario Party title is accompanied by a whole series of Super Mario Amiibo, of which this golden little fella here is a variant.
He's actually the third Mario in the line, counting that Super Mario series one and the original, which is posed with a fireball. The latter is still super-easy to find as he's one of the evergreen members of the Amiibo series, and Nintendo is pretty much keeping a steady stock of him on the racks. As for the Super Mario series Mario, well, he's honestly in a heck of a lot better pose as far as I'm concerned, so he might be a little tough to find once he hits retail.
And golden boy here? Let's just say you might want to get in line now if you want one.
Continue Reading >>> Source link