Hal Jordan is many things: cocky, arrogant, and full of himself. He was once the leader of the Green Lantern Corps, and now he is in exile. Check out Hal Jordan and the Green Lantern Corps Vol 1: Sinestro's Law for more.

Hal's Been Missing
Hal Jordan is many things: cocky, arrogant, and full of himself. He was once the leader of the Green Lantern Corps, and now he is in exile. His exile is challenging him, and he feels at risk of losing himself.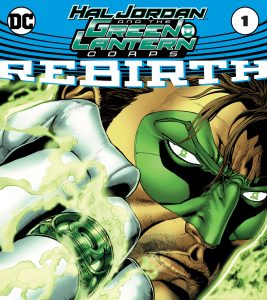 Hal took Krona's prototype gauntlet. Everyone is gone. If that isn't enough, consider the fact that Hal is actually a construct, and he is using a Green Gauntlet. Hal comes to realize that, he himself if a construct. Or at least, in part, he is. HE comes to realize that he is not a typical Lantern, and as such, he decides to push the envelope again. Hal is going to forge his own Green Lantern ring – a power believed to belong solely to the Guardians. Several prominent members of various Lantern corps feel a tremble within the emotional spectrum.
There's one rull I'll never break though: you wear the ring, you say the oath. – Hal Jordan
Order Through Fear
On the other side of the universe, Sinestro and his Sinestro Corps have set themselves up in place of the Green Lantern Corps, ruling the universe with fear. Sinestro is seen as a great leader, while his daughter Soranik and his lieutenant Lyssa take turns running the daily operations. While Hal was figuring a way to resurface with his Green Lantern persona and investigate the disappearance of his friends and teammates, Sinestro had his own plans.
At the core of Warworld, the homeplanet of the Sinestro Corps, lives Parallax. The giant emotional entity that breathes life into the Sinestro Corps power. Sinestro has grown old, become frail. Sinestro seeks to embody Parallax again, to not only regain his former strength, but to drive fear into the lives across the universe.
Hal has forged his ring and decided to go hunting. He found a planet with a known smuggler's den. Seeking out the colorful denizens of this society, he is looking for information. Just as various Lanterns felt when Hal forged his ring, Hal felt a strange surge of fear when Sinestro took on Parallax again.
Sinestro stands before his Corps, and announces his rejuvination using the power of Parallax itself, and to go out into the universe, enforcing order through fear.
Out On The Edge
On the outer edges of the cosmos, a great green flash appears, and numerous Green Lanterns emerge. We aren't given details as to where they have been. All we know is that many have fallen in their struggle to return. Familiar faces such as Kilowog, John Stewart and Guy Gardner survive, thankfully. Gardner goes out as a scout in the black space, to learn the specifics of where they are and what sort of situation they find themselves.
Sinestro catches wind that his pupil, Hal Jordan, once touted as the greatest Green Lantern still lives. This enrages Sinestro, ordering his men to fall back, and not to engage Jordan. Like so many plans before it, this did not turn out the way they had planned.
From here, the book takes plenty of twists and turns, including the Green Lanterns fighting incredible odds. Though no battle between these two corps will end easily.
What A Blast
Hal forging a ring. The Lanterns return. Guy faces incredible strife. How could this not make for a good story. Not to mention getting the chance to see another showdown between two of the Green Lantern greats: Sinestro and his once pupil, Hal Jordan! Any chance we the reader can pick up a #1 issue and get in on the story, is a wonderful thing. I loved sitting down and reading through the trials of the Green Lanterns. Personally, I can't wait to see where Hal leads his Lanterns next.
Hal Jordan & the Green Lantern Corps Vol 1: Sinestro's Law is available February 8, 2017 for $17.99.
Hal Jordan & the Green Lantern Corps Vol 1: Sinestro's Law
Written by: Robert Venditti
Art by: Jordi Tarrogona, Rafa Sandoval, Ethan Van Sciver
Cover by: Ethan Van Sciver
Continue Reading >>> Source link