Valiant's Harbinger #25 will end the original series' run as it transforms into the miniseries event, Harbinger: Omegas.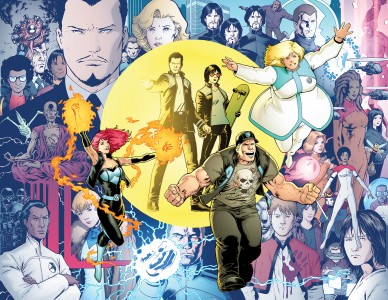 A book in flux, Harbinger is rapidly changing pretty much every month right now as we sit at the close of the Death of a Renegade storyline. That's a good thing as far as Valiant's book about psychically-gifted teens goes though as the superhero tale has been presenting readers with twists and turns since the first issue. This latest change, the actual end of the series and opening of Harbinger: Omegas, is the biggest and most universe-changing one yet.
Just as "DEATH OF A RENEGADE" steals one of the team away in today's HARBINGER #23, Valiant is proud to present an advance preview of HARBINGER #25 – July's oversized, 48-page anniversary spectacular, capping off the first two years of Joshua Dysart's widely acclaimed vision of superpowers in the real world, and a direct introduction to a bold new year of Harbinger beginning with August'sHARBINGER: OMEGAS #1 (of 3)!

Joining previously solicited creators Joshua Dysart (Harbinger Wars), Khari Evans (Archer & Armstrong), Dan Goldman (Red Light Properties), Justin Jordan (The Strange Talent of Luther Strode), Barry Kitson (Empire), Lucy Knisley (Relish: My Life in the Kitchen), Rafer Roberts (Carpool Buddies of Doom), and Riley Rossmo (Bedlam), Valiant is proud to add all-new contributions from New York Times best-selling writer and Eisner nominee Vivek J. Tiwary (The Fifth Beatle: The Brian Epstein Story), Eisner Award-winning artist Janet Lee (Return of the Dapper Men), and acclaimed artist Lewis LaRosa (Punisher MAX) to the all-star line-up for HARBINGER #25!

Discover a definitive new vision of what superhero comics can be right here with an all-new climax to"DEATH OF RENEGADE" by the original series creative team of Joshua Dysart & Khari Evans, plus a never-before-seen exploration of the past of troubled runaway superhuman harbinger Peter Stanchek with a new tale from Vivek J. Tiwary & Janet Lee. Plus: the origin of Peter Stanchek and the Renegades by Joshua Dysart & Lewis LaRosa; Zephyr's first solo outing by Lucy Knisley; the complete cast of Harbinger universe by Barry Kitson; a new short story by Justin Jordan & Rafer Roberts; and much, much more!

A Renegade has fallen and, now, there is no turning back. Stripped of his allies and all sense of self-preservation, the world's most powerful "harbinger," super-powered billionaire Toyo Harada, is about to inflict a terrible reckoning on a world he thought he could control…and everything we thought we knew will be forever changed in its wake.
It's interesting to note that Valiant, although ending the series' first run with the issue, is touting the book as the beginning and not the end. Issue #25 will very much be the lead-in to Omegas and not just a bittersweet goodbye to a book that has really helped to propel Valiant to the top of the indie charts and reestablish what a modern superhero comic could be.
So even if you haven't been reading these past two years, that 48 page behemoth is as good a place as any to start, since it looks like things are just about to rev up once again for the young heroes of the Renegades. Catch Harbinger #25 when it levitates onto the racks on July 16th from the talented mega-team of writers Joshua Dysart, Vivek J. Tiwary, Justin Jordan, Lucy Knisley and artists Khari Evans, Janet Lee, Dan Goldman, Rafer Roberts, Barry Kitson, Riley Rossmo, Lucy Knisley, And Lewis Larosa.
Continue Reading >>> Source link