Dark Horse Comics' exceptional horror title Harrow County turns 25. Expect monsters, magic, and more than a fair bit of emotion as this one twists its way to a close.
Harrow is hers
As we open this latest issue of Harrow County, we find that Emmy (the main character) is sorting her feelings about her sister (and nemesis) Kammi's death. It's been a while for me since I've read Harrow, so I'm not exactly sure how that happened.
Kammi was very much alive, and engaging in all manner of wickedness last time I checked. Just another thing I'll have to catch up on I suppose. In any event, that's not the case now, as it seems that Emmy has defeated Kammi. The wicked witch of Harrow County has been banished deep underground. Or, has she?
That's just one of the questions that you'll find posed and answered in this 25th issue. But what you probably won't be doing is getting lost. Even if you're a lapsed fan like I am was, I'm comfortable saying that you'll be able to slide right back in. That's because many of the characters and themes that are presented here are ones from early on in the book's run.
It seems that Bunn has crafted a constantly evolving story with Harrow County.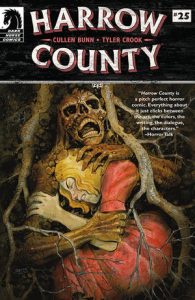 And wow do I mean that. Last time I read an issue I thought that all the big secrets had been laid bare, but that wasn't half the case. Some of the stuff presented here in issue 25 is earth-shattering for a fan. And the ending is a stunner and a half. It's a shock, and one loaded with emotion.
I won't even come close to spoiling it for you, but Bunn's work is terrific and left me begging to read the next issue ASAP. That's been the norm throughout though, and it hasn't changed a bit even a quarter of the way to 100.
So the story is excellent, there's no doubt about that. But Harrow offers more than a story-driven tale. The cast of characters itself is incredibly well put together and written with such detail and personality that they seem like living beings.
Part of that is the sublime artwork.
Tyler Crook has perfectly captured a look that's wholly Harrow's. It's a horror story, there's no doubt about that, but the whole thing's grounded in a way. Though don't let that put you off. I don't mean that there's nothing fantastical in Harrow, on the contrary actually. It's just all presented in such an interesting fashion that Crook makes the world feel all too real.
There are some awesome juxtapositions in this issue too. The horrific contrasts against the mundane to create an atmosphere that's unique and memorable. Harrow County has given fans some of the coolest imagery in comics through its run, and that's not hyperbole.
That said though, this issue doesn't pop as much as I'd become accustomed to. It's still great, but there's only one really "wow" moment to be had, and it involves a character that fans should know well.
Even so, all of the above comes together to create a package that undeniably fascinating. Harrow County remains a joy to read, and a book that horror fans of almost every kind should check out.
Harrow County #25
Release date: September 13th, 2017
Format: Single issue, ongoing series
Publisher: Dark Horse Comics
Written by: Cullen Bunn
Illustrated by: Tyler Crook
Continue Reading >>> Source link