The long awaited return of Hellboy didn't disappoint in the sales department as the first printing of issue one has officially sold out nationwide and is on the way to a second edition.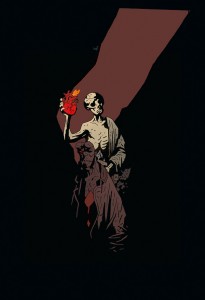 Available at comic shops on January 30th, the reprinting of the book will be landing just one week before Hellboy in Hell #3 hits audiences in the first week of February.
The comic picks up with Big Red as he's trapped in Hell (surprise!) following his heroics in The Storm and The Fury and subsequent 'death' in Britain. HiH is a hotly anticipated book for fans of the Mignola-verse (me included) as it's the first time we get to see Hellboy in action anywhere in quite a while.
That's not to say that the wait has been all that bad as B.P.R.D has filled in quite nicely with some epic tales and characters of its own. Still… good to have the big guy back.
Hellboy in Hell is brought to you by none other than creator Mike Mignola, who is returning from 'hiatus' and is handling both the writing and art chores for the book.
If you just can't wait to dig in, the first issue is available now on Dark Horse Digital (with that second printing in stores on the 30th) and you can pick up the issue number two right now as it's in stores today.
Continue Reading >>> Source link