Seen the pic of Hellboy from the new movie and need to catch up on the character ASAP? Then you're going to please as punch with Dark Horse's latest announcement.
Collected editions from hell
Hellboy is no stranger to collected editions. Actually, that's how I first got introduced to creator Mike Mignola's universe of creepy, crawly things. Needless to say, if you're a new fan, then there's no better way to acquaint yourself with a comic book hero (or whatever) than picking up a collection of his or her stories. And that's just what we have here.
Dark Horse has announced this week, that a set of six Hellboy Omnibuses is on the way for 2018. These books will bring together "every Hellboy story written and illustrated by Mignola".
But that's not all, as it'll also showcase The Wild Hunt.
No, I don't mean the latest Witcher game, I mean the very story that's spurred the upcoming rebooted film series. Originally, this tale was part two of a trilogy of arcs, and involves the end of the world. That's something that should have Hellboy fans wondering just how big this new movie deal is set to be.
Whatever happens there though, the books themselves are being brought together for the first time here, in a collection.
"I'm very excited to finally have all the Hellboy stories collected in chronological order," said Mike Mignola. "And I'm especially excited to have the three Duncan Fegredo books—all the stuff with Alice and the Queen of Blood—together in one collection for the first time."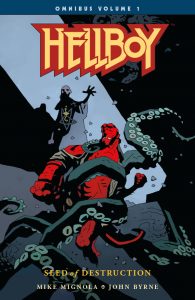 Each book will be priced at a very comfortable $24.99 USD, with the first hitting on June the 5th, 2018.
Here's how the schedule shakes out:
Hellboy Omnibus Volume 1: Seed of Destruction


Available in comic stores on

May 23rd

and in bookstores on

June 5, 2018

.The story jumps from Hellboy's mysterious World War II origin to his 1994 confrontation with the man who summoned him to earth, and the earliest signs of the plague of frogs. Avoiding his supposed fate as the herald of the end of the world, Hellboy continues with the Bureau for Paranormal Research and Defense, fighting alongside Abe Sapien, Liz Sherman, and drafting Roger Homunculus into his own ill-fated service with the B.P.R.D. This 368-page volume covers Hellboy's adventures from 1994 to 1997, reprinting Seed of Destruction, Wake the Devil, and "Wolves of St August," "The Chained Coffin," and "Almost Colossus," from The Chained Coffin and The Right Hand of Doom.
Hellboy: The Complete Short Stories Vol. 1
Available Summer 2018.The ultimate introduction to this supernatural hero features 16 standalone stories with Mignola's greatest collaborators—stories that can be read in any order.

In 1994, Mike Mignola released the first Hellboy series, Seed of Destruction, as Hellboy faced his supposed destiny as Beast of the Apocalypse. Before that, he'd spent fifty years fighting monsters as a somewhat carefree member of the Bureau for Paranormal Research and Defense. The Complete Short StoriesVolumes 1 & 2 present those early adventures. "The Crooked Man" and "Double Feature of Evil," both of which earned Mignola and his legendary collaborator Richard Corben Eisner Awards, are collected with the complete "Hellboy in Mexico" saga, featuring collaborations with Corben, Mick McMahon, Gabriel Ba, and Fabio Moon, as well as one of Mignola's early masterpiece, "The Corpse." This 368-page volume covers Hellboy's adventures from 1947 to 1961, reprinting stories from The Chained Coffin, The Right Hand of Doom, The Bride of Hell, The Crooked Man, The Troll Witch, and Hellboy's childhood adventure, The Midnight Circus, drawn by Duncan Fegredo.
Hellboy Omnibus Volume 2: Strange Places
Available Summer 2018.Hellboy loses faith in the Bureau for Paranormal Research and Defense when they strap a bomb to one of his fellow not-quite-human agents. He gets answers about his destiny, like it or not, in over 300 pages of comics mostly drawn by Mignola, featuring award-winning guests Gary Gianni and Richard Corben. This 416-page volume covers Hellboy's adventures from 1998 to 2005, reprinting Conqueror Worm, Strange Places, Into the Silent Sea, and "The Right Hand of Doom," "Box Full of Evil," and "Being Human" from The Right Hand of Doom and B.P.R.D. Being Human.
Hellboy Omnibus Volume 3: The Wild Hunt
Available Fall 2018.The basis for the upcoming Hellboy feature film! Terrible powers determined to kill Hellboy force him strike a deal with the Russian witch, the Baba Yaga, and to confront the truth about his destiny. The human race hangs in the balance, as well as King Arthur's sword Excalibur, in a story that wipes England off the map and sets in motion the end of the world … Mike Mignola and Duncan Fegredo's complete trilogy is collected for the first time in this 512-page volume, reprinting Darkness Calls, The Wild Hunt, and The Storm and the Fury, and the short story "The Mole."
Hellboy: The Complete Short Stories Vol. 2
Available Fall 2018.Featuring "The Hydra and the Lion," "The Troll Witch," "The Baba Yaga," "The Sleeping and the Dead," "Heads," "Goodbye Mister Tod," "The Vârcolac," "The Vampire of Prague," "The Bride of Hell," "The Whittier Legacy," "Buster Oakley Gets His Wish," "They That Go Down to the Sea in Ships," "A Christmas Underground", "Dr. Carp's Experiment," "The Ghoul," "In the Chapel of Moloch," and "Makoma."
Hellboy Omnibus Volume 4: Hellboy in Hell
Available Winter 2019Hellboy in Hell, The Exorcist of Vorsk, The Magician and the Snake
Continue Reading >>> Source link