Storm Collectibles' new line of Street Fighter figures is already pretty impressive, and it's about to get a lot bigger. Like, physically bigger, with the launch of the jumbo Zangief figure.
My iron body is invincible!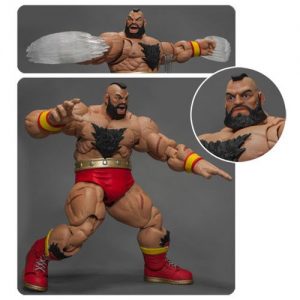 Still one of the most imposing World Warriors in Street Fighter decades after his debut in Street Fighter II, Zangief is one mean fighter. He joins an already impressive Street Fighter V series from Storm that includes Ryu, Ken, and M.Bison. And yes, you can expect him to tower over all of them.
Zangief stands in at 8 and a quarter inches, and will include a bevy of accessories. Snap-on Cyclone Lariat effects? Yeah, you bet those'll be in the box. Of course, he's also set to be a little more expensive than the standard Street Fighters in the line. You probably already guessed that though, if you're a collector of these bad boys.
And yeah, $94.99 USD is a chunk of cash for a 1:12th scale figure. But as you can see, he's pretty awesome and anther one of the original Street Fighters. If you're a big fan, he's kind of worth it I think. Plus these Storm figures are really awesome. I have a few and love 'em. The previous three releases have great poseability and look awesome on the shelf.
If you're so inclined, Zangief is pre-orderable right now at Entertainment Earth. Watch for the big boy to start shipping out next month from Storm Collectibles. Get one for yourself here.
Continue Reading >>> Source link