It's the stuff of legend and lore; a pit loaded with unsold copies of ET for the Atari 2600. But just how many copies of the unsellable game are down there in the abyss? We might be about to find out.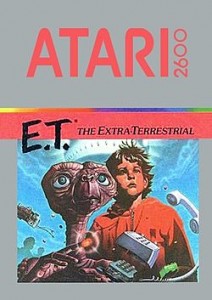 Canadian movie company Fuel Industries has just inked a deal that will allow them to excavate the site where Atari's shattered dreams are laid to rest- the ET burial ground in New Mexico. If you're not familiar with the story, it's a simple one basically equaling greed and the need to push a title out the door as fast as was humanly possible just to cash in an a movie name.
Atari aquired the rights the the Spielberg mega-hit ET in 1982 and reportedly paid a hefty $25 million USD for it. To make a long story short, that was a ton of money back in those days (not that it's not a lot now) and Atari wanted to make the biggest buck on its return. The company had programmer Howard Warshaw do the honors and gave him a paltry five weeks to turn in a completed game. And that's not any time at all, even for a simple Atari 2600 title.
The result was predictably horrible and, while it did sell a generous amount of copies it fell way short of its goals and Atari ended up with over three million copies of a dead game that not even love of what would become a classic movie could help. So they dumped them.
In any event, the story doesn't end there. This single event had some very long ranging implications. It was so bad for Atari that the company imploded as a result of the sales disaster and it even led to the collapse of the gaming industry in 1983. A fall that would last until Nintendo's NES saw the light of day in the US in 1985.
And now all those unsold carts will finally see the light of day again thanks to the film crew at Fuel Industries. They have access to the site for the next six months so there should be plenty of time to unearth the industry's secret shame.
Hmm… I wonder if they'll be worth anything?
Source: MCV
Continue Reading >>> Source link