The Legend of Zelda Hyrule Historia, Dark Horse Comics' historical compendium of all things Link and Gannon, hits stores this week and is already topping the Amazon Best Seller list.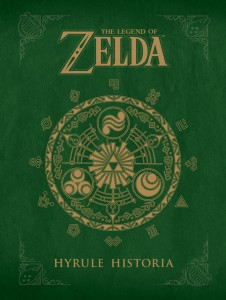 For fans of the long running series of Nintendo action/RPG's, Hyrule Historia is probably as close to a Holy Grail as you can get. The book actually makes sense of the seemingly jumbled and confused overall storyline of the fictional land of Hyrule and the light and dark forces that occupy it.
Pre-sales of book have been beyond expectations and almost as historic as the tome itself. At a recent pre-sale event at the Nintendo World Store in NYC, Hyrule Historia drew some serious crowds. Lines to grab a book were around the block in the city's famed 30 Rock complex in below freezing temperatures. Now that's commitment.
The book also sat at the top of the Amazon.com bestseller list even before release – that's just on the strength of the title's pre-orders. Impressive.
If you want a copy for yourself, they are still out there… they're just probably not going to last all that long. As of now, you can still check your local comic shop or bookstore. Or you can place an order online through Amazon, Barnes & Noble, or Things From Another World.
Continue Reading >>> Source link