Spock beams into SDCC with a die-cut mousepad.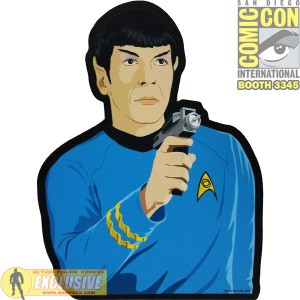 The crew of the Enterprise might have no use for mice or mousepads (hello computer…), but you more than likely do, and this one should should for the bill nicely. And in a year that we lost the actor who famously portrayed Star Trek's resident Vulcan for so long, well, it's kind of a nice little remembrance too… you know, if you're the sentimental sort.
The pad measures 8.4″ W x 11″ H and is 3/16″ thick and has a fabric-covered surface, so it'll be nice and comfortable to mouse on. Exclusive to Action Figure Xpress (booth #3345 on the show floor), the Spock pad retails for $13.00 USD and can be pre-ordered here.
Not heading to the big show in San Diego next month? You can still nab one of these by pre-ordering at this special link. Live Long and Prosper.
Continue Reading >>> Source link