Telling "the whole story before the story", IDW's digital one shot tie-in expands on the events leading up to the hit Cinemax show.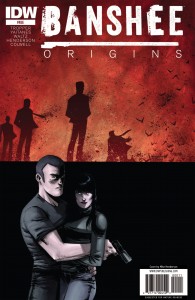 Taking place a good 15 years before the show starts, Banshee: Origins really fleshes out the relationship between the two star characters of the show, Lucas Hood and Carrie.
Fans looking for faithful 'in cannon' stuff will definitely be pleased with Origins too as it's being penned by series writer Jonathan Tropper. As far as the visuals, the pencils are provided by the talentedMike Henderson, who handled the art chores on Teenage Mutant Ninja Turtles: Casey Jones.
"IDW's BANSHEE: ORIGINS is truly an innovation in transmedia storytelling," said Greg Yaitanes, executive producer, BANSHEE. "It's not just a great graphic novel on its own merits, but is canon with BANSHEE mythology. The creative team from the series seamlessly collaborated with IDW to create this experience. Readers familiar with BANSHEE on Cinemax will have secrets revealed from season one and hints about season two woven into these pages all wrapped in an origin story."
Hood, for those who haven't been following the first season of Banshee, is an ex-con "and master thief" who takes on the persona of the sheriff of the town of Banshee, PA. He's not exactly what you'd call 'reformed' though as Hood continues his underhanded dealings. Complicating things further, he and his former partner Carrie are hunted by some very bad people that they double-crossed before the show began.
A noire-fueld thrill ride of a tale, Banshee: Origins should definitely give fans something to sink their teeth into. The e-comic is a free download too, so there's no excuses to not give it a read. You can grab it from either the IDW app or the comiXology storefront/App, which is available on iOS, Android, Windows 8, the Apple iBookstore, and online right here
.
Continue Reading >>> Source link