On a mission to the heart of Project Rising Spirit and their submersible as the Broken Angels arc continues, Imperium continues to be a very interesting tale, one that's proving to be way more than its 'bad guy book' hook.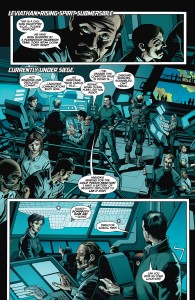 There's a ton happening in this one, though that should come as no surprise to anyone who reads Valiant Comics on a regular basis. The publisher and its stable of writers seems to have a knack for putting together comics that have a world's worth of history and happenings contained within, but still don't seem to have any problem being concise and tons of fun.
Imperium #6 continues this trend as we learn a few things about some of the main villains in the Valiant U. For starters (and I'll try and keep spoilers to a minimum) Project Rising Spirit's head Kozol is an even bigger jerk than you might have thought, a whole squad of PRS agents is reduced to fodder by Lord Vine, and Harada continues to be one of the most impressive villains in comics. Then there's Mech Major, also known as Sunlight on Snow.
By far, and I mean BY FAR, Mech Major is one of the most interesting characters in not only Valiant, but comics in general. A sentient machine, MM follows his creator Harada, but he's got a reverence for life and a wonder in seeing the world that can't be ignored. I honestly can't imagine it'll be long it'll be till he turns 'face' because he's an amazingly deep and relatable character. Yes, I just called a robot 'relatable'. Read the book and you'll see why.
The main plot device here though is Angela Peace Baingana. Well, it was. The builder of the first cold fusion reactor on Earth, Baingana's body was taken by an other-dimensional being, and is currently possessed. Who's got her? We don't know that yet, but even Harada can't read her, and that says something.
Now called Broken Angel, the issue's story surrounds Imperium attempting to secure a brain in a tank. That probably sounds super 50s sci-fi-ish, but it's a little more interesting than that, as the brain actually powers the cold fusion reactor. And that's something that Harada just has to have.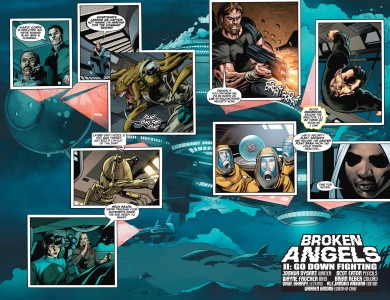 Joshua Dysart's script is just terrific here, as he juggles all the various elements very well and pretty much makes every character in the book interesting and enjoyable. As I mentioned, my personal favorite of the bunch is Mech Major, but all of the villains that make up Imperium are cool and provide a very important individual piece of the overall puzzle. Even the 'human' Gravedog proves to be a big time member of the team as they find themselves in a tight spot at one point.
Framing everything is the artwork of Scot Eaton. Eaton seems very well suited indeed for the action of Imperium, which is fantastic superhero-type stuff, surrounded by a high-tech and futuristic backdrop. Some of his splash pages here are nicely detailed and come off great, serving the story perfectly and not just coming off as eye-candy.
And I have to mention Brian Reber's coloring here too, since it's awesome. Love the effects on Harada's psi-abilities in particular.
Final Thoughts
Imperium #6 is a must buy if you've been reading Valiant's supervillain saga from the beginning, or even just from last issue, which kicked off this new arc. And about that, Broken Angels is turning out to be very interesting indeed.
Great writing, terrific artwork, and some of the coolest characters in comics. There's a lot of stuff here, both in the characters and in the plot devices themselves, that promise to mean some big elements in the book, and maybe in the Valiant U in general, down the line. Don't miss it.
Continue Reading >>> Source link