Are you one of those fans who have never taken a liking to the time-displaced young X-Men? Then you should be watching for what Marvel has cooking for their band of merry mutants. Extermination is coming.
Time's up?
A few years back, the X-Men were in a very bad place. The team was fractured, and some fans were wondering if Marvel was actually shuffling them out of their superhero universe. As we were to find out, that thankfully wasn't in the cards.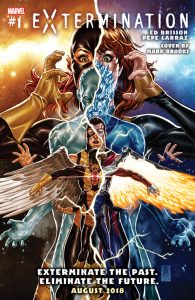 As of right now, the X-Men are doing pretty well with a bunch of monthlies. There are plenty of action figures, and even a possible integration of the movie X-Men into the Marvel Cinematic Universe. We're even getting Wolverine (the real one) back, and the trio of teams are very solid.
But even with all this, there is a leftover element from those "not so great" days. Of course, I mean the time-displaced X-Men. The younger-self version of the original X-lineup was pulled out of the past (later discovered to be a separate timeline) by Beast, but has never really caught on with fans.
And now it looks as though their time might finally be up.
Marvel released a one-sheet today that touts something called eXtermination. There are no details, though Marvel says they're coming. Specifically, they want fans to watch their C2E2 segment on the event, which will be during Marvel's True Believer panel at 12:15-1:15pm central time in room S401.
The other thing that we know for sure is that the young X-Men will play an apparently big part in the proceedings. I assume that that's a safe bet anyway, since they're the only thing on the cover.
Stay tuned.
Continue Reading >>> Source link