The 'automation' DLC pack has arrived for Bethesda's blockbuster Fallout 4, and it's finally time to build some robots.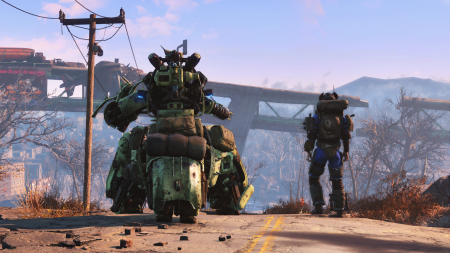 In Automatron, the mysterious Mechanist has unleashed a horde of evil robots into the Commonwealth, including the devious Robobrain. Hunt them down and harvest their parts to build and mod your own custom robot companions. Choose from hundreds of mods; mixing limbs, armor, abilities, and weapons such as the all-new lightning chain gun. Even customize their paint schemes and choose their voices! (For characters level 15 or higher.)
Yep, just when you thought Fallout 4 couldn't get any more time-consuming, the game goes and introduces bot-building. And if that's not enough to keep you busy in Bethesda's post-apocalyptic Boston, April will bring more capabilities for your settlement with Wasteland Workshop, and you'll get to explore the new area of Far Harbor after that, in a pack that will arrive some time in May.
What's Far Harbor? Well, it's "the largest landmass Bethesda Game Studios has ever created for post-release content" is what it is. Taking place in what's left of Maine, Far Harbor promises to add a ton of new content to the game, which is already kind of brimming with stuff to do.
There's lots more though, so the add-ons don't end there. Throughout the rest of the year, Bethesda will be adding in a Survival Mode and the long-awaited Creation Kit. If you don't remember what that is, it's a modding utility that will allow you to create mods on the PC, and then share and play them across not just the personal computer, but consoles as well. That one's pretty exciting.
Continue Reading >>> Source link