Toy-maker Jakks Pacific is about to launch their Mega Man action figure lineup, and it all starts with the Blue Bomber himself. Mega Man is up for pre-order right now at Entertainment Earth.
A Capcom classic
There are few video game characters/series' as well regarded as Capcom's Mega Man has been. Since the 8bit days, the little side-scrolling robot has garnered acclaim. Pretty much every installment has been well-designed and imaginative to the extreme.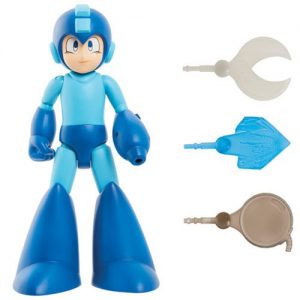 After a long hiatus, he's on the way back to consoles too. That'll come with the launch of some new Mega Man collections, and a fresh title – Mega Man 11. But while all that's still a ways off, Jakks' toy line is almost here.
Launching this summer, the lineup will obviously include more than just the title character. Though he's the only one that's currently available for pre-ordering. This isn't the run of the mill Mega Man either. This version of him has lights and sounds, and multiple firing projectiles. And yes, those include facsimiles of different Robot Masters' abilities.
Mega Man, one of the great video game heroes, is back with an awesome figure line! The Mega Man Classic Deluxe Action Figure is just one of many exciting new releases from Jakks Pacific. Complete with lights and sounds, the Blue Bomber sports nifty projectile accessories and lots of articulation. He's perfect for your desk or game room.
Mega Man is scheduled to actually ship this August, and will run you $39.99 USD. No word yet on a "basic" figure of MM, though I imagine there will be one at some point. You an order yours here.
Continue Reading >>> Source link