Valiant has locked up the Harbinger Wars writer as an exclusive creator the the young publisher.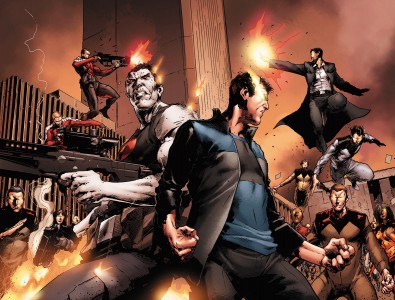 I have to say, this seems like a pretty solid move. Dysart's Harbinger Wars is only one issue old and it's creating a compelling narrative that moves beyond a simple crossover and actually feels like all of the characters depicted belong in not only the same universe- but in the same book.
Joshua Dysart, aside from comics, also lists 'New York Times best-selling writer' and 'Eisner Award nominee' to his credits. He also is the writer of the ongoing Harbinger monthly series, so he knows his way around the Valiant Universe and its characters.
As for how Dysart feels about the deal, Valiant had him at 'hello'-
"Comics is a business, but it's also a community and a family. From the moment I met the ragtag skeleton crew that work tirelessly to hoist the Valiant flag, I felt like I'd found my next comic book family," said Dysart. "When I first met Dinesh, the CEO of Valiant, he was carrying a box of comics along with his marketing crew, like he was just another boy in the band. That's what I like. I like it rugged and I like it scrappy.

"I believe Valiant can change things for the better in superhero comics. I believe small is good. I believe in every single member of this team, from management to marketing. And most of all, I believe in and trust my editor, Warren Simons. These guys took a huge chance on me. They saw 'Unknown Soldier' and they said, 'That dude should write superhero comics.' They gave me the freedom to create challenging characters and build new worlds.

"So that's it, I'm in this. This is my next thing. I want to write Harbinger for a long time and I'm super excited to be developing my next big top secret project for the Valiant Universe. So if family, creativity, innovation and loyalty aren't reasons to commit to a business venture like this, then I don't know what is."
As both a reader and a critic, I have to say that I'm extremely impressed by Valiant and how it operates as a company. Not only do they produce some of the best superhero comics on the stands today, but they also seem to be a class act of the highest order. Doing business is one thing, doing it the right way is another.
For the publisher and Joshua Dysart, it's full steam now.
Continue Reading >>> Source link