The first collected edition of Lion Forge Comics' Knight Rider book is loaded up with plenty of action and high-tech intrigue.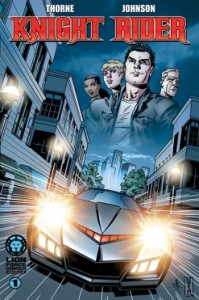 Lion Forge has been publishing Knight Rider comics for a little while, but they've now released this collected book which binds together the first 8 issues (and then some) of the ongoing series. I'm pretty glad they did too, as the book wasn't on my radar, which I'm more than a little embarrassed to admit since I not only love comic books, but Knight Rider as well.
I remember pretty clearly watching every episode of the classic TV show multiple times, and yes, I did have that giant KITT and Michael Knight toy set. I always thought that was an odd choice by the way, why make the figure and car so big? It was impossible to really play with them since there were no other figures in the line and GI Joe was way to small!
Anyway, back to the task at hand, and that's a pretty awesome modern take on Knight Rider. Much like the recently reviewed Miami Vice Remix from Lion Forge, this book is an updating of the original. So what you won't find here are any of the 1980s sensibilities that the original had, or the tech for that matter.
Michael carries around a cell phone now, and doesn't talk into his wrist communicator, and KITT is as plugged in as you can get, receiving signals and data from the web, as well as satellite transmissions and GPS info. He's also got some sweet weapons systems and a new attitude that makes him a little more child-like than ever before.
Michael is a member of F.L.A.G., a clandestine organization that uses chess monikers. A former Army Ranger and cop turned agent, Michael is a 'Knight', which is where the name comes from, although the remainder of his story should be very familiar for series fans (plastic surgery and all).
As for KITT, well, I don't want to spoil too much, but he both is and isn't the character that you might remember. This version of KITT is still getting used to his abilities, and even being a part of the world, as he's been on ice for quite some time as the tale opens. He's still all kinds of awesome though, turbo-boosting around and using a pair of pop-up machine guns when things get hairy.
Writer Geoffrey Thorne does a good job of taking that modern theme and running with it here. Everything feels much more cutting edge in general than on the original show, and with good reason as that was almost 30years ago! And as I mentioned KITT himself manages to keep all the cool stuff, and add plenty more.
I also liked the 'spy' feel that Thorne worked into the story. I always thought that was something that should have featured way more prominently in the TV show and I'm glad to see that this book plays that up to the utmost. Even by the end of the first arc, when things take a sharp 90 degree turn in terms of who these characters are, that same feel is center stage, and that's a good thing.
Even though I liked the story quite a bit though, I do think it took a little too long to get to the good stuff. And by that, I mean the point in the narrative when it really starts looking like Michael Knight and KITT have hit their stride and they start doing what you'd expect them to do. The opening issues don't drag at all, as there's plenty going on, but they aren't as exciting as the last ones featured here, when things really start to take shape for the series. So make of that what you will.
I did like artist Jason Johnson's work throughout though. Knight Rider sports a superhero-like quality that makes it really pop with the big moments all making appropriate impacts. One word of warning though, Johnson's rendition of Michael Knight isn't a spot-on characterization of David Hasselhoff. He looks cool enough, but he has a different look than the guy that we all know. That's not a bad thing by any means, just an observation, and it actually matters very little thanks to the book being loaded with action… and I still had no trouble reading Michael's dialog with Hasselhoff's voice in my head, so there's that.
After the main arc comes to a close too, we get a look at one of the standalone issues in a little bonus story. A story that doesn't follow the overall arc, this tale is drawn by Brian Denham (who's awesome) and written by Shannon Denton. It's a solid backup and bonus, and also gives you a good sense of what the comic is going to be doing when it isn't following the 'mythology'.
Final Thoughts
Knight Rider is off to a sold start here with volume one of the ongoing series. It's pretty different than what you remember from the TV show in that this version is modern, more violent, and generally much savvier about the dangerous world that this man who does not exist inhabits. As a fan though, I like the changes a lot and I'm more than a little interested to see where Lion Forge takes this book down the line (AirWolf crossover!).
If you're up for a flight through Knight Rider's shadowy world, then this is a book that I can definitely recommend revving the engine on.
Continue Reading >>> Source link