More May the 4th news today as Konami has announced that players of their hit digital trading card game Star Wars: Force Collection are in for a special treat on the house- a 5-Star character card.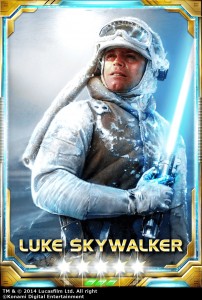 The powerful card will be given to any and all players of the game who have or create an account before the Force-laden day of May the 4th (this Sunday). Gamers wil be given the special card simply for logging into the game, no hoops-jumping required.
Also, and on the same note, Konami has put together the info graphic you see in the gallery below to show just how popular this little game has become.
If you haven't played the iOS and Android mobile game, it's more than just a Star Wars themed card-battle game. Players can get a total of 300 Star Wars hero, villain, and vehicle cards to use in battles and can wage war across the universe that Lucas built.
In addition, your choices matter as you will lean either to the Dark or Light sides of the Force as you play, a mechanic that influences the events of global play. If you're a big time Star Wars fan, it's definitely worth a try since it is a free app, and just might become one of those games that becomes a fixture on your mobile device.
Grab a download and log in before May the 4th, and you'll collect your card too, so now's as good a time to take the plunge as any.
Continue Reading >>> Source link