Getting in on the Star Wars: The Force Awakens action is statue and collectable-maker Kotobukiya, who has an awesome ArtFX+ statue of villain Kylo Ren all set to join your collection.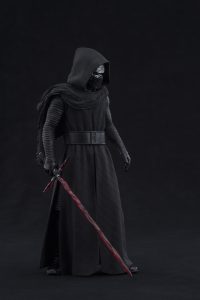 The Dark Side of Star Wars' force is seductive, so seductive that it can split families in two, rend established orders into pieces, and forge a line of villains so powerful that they can change the destiny of the galaxy many times over. Kylo Ren is the villain in the recently released first film of the new Star Wars trilogy, and while he's not a full-blown Sith (yet), he's definitely checked off a bunch of the boxes on the list of what makes them so darned evil.
Reflecting that nastiness, is Kotobukiya's newest piece. This new ArtFX+ statue is sculpted to reflect the baddie that is Ren in all his dark-cloaked glory. As is the norm with Koto too, you'll find some extra parts in the box with this snap-together statue, which means that you can actually set him up in a total of 8 different poses.
He looks freaking awesome in all of them too, and could make a pretty nifty centerpiece of your Force Awakens shelf. Just try not to get all emo if you do pick him up.
Standing in at 1/10th scale and with magnets built-into his feet (for the metal display base), Kylo Ren will ship out this July and run you $69.99 USD.
Continue Reading >>> Source link