In what has to be one of the strangest crossovers in gaming, Capcom's latest Resident Evil will be swapping characters with Valve's Left 4 Dead 2 on the PC.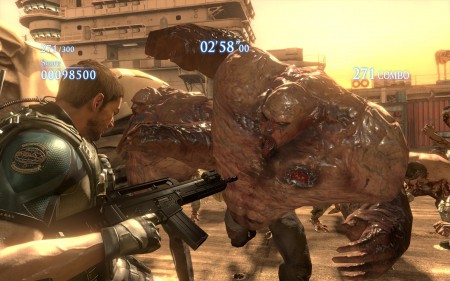 I don't say it's strange because the games in question are so different, because thematically they aren't; it's just that while RE6 is new to market on the PC- Left 4 Dead 2 has been around for a while.But maybe it's not all that strange after all, since both games are heavily infected by the undead and RE6 is just launching now on the PC through Steam, Valve's online sales platform. The company has a long history of crossing over elements of games and offering exclusive items for versions of titles debuting on Steam- so zombies making the trip back and forth between these two is probably a foregone conclusion.
Rotting corpses aren't all players will be getting in the swap though, because in a very cool twist all four of the survivors from Valve's zombie shooter will be making the jump into Resident Evil 6's No Mercy mode as playable characters. They'll be bringing some pals too with both the witch and tank special zombie types tagging along to mess up Leon's hair.
As for L4D2, Valve's post-apocalyptic multiplayer shooter will be on the receiving end of three of Resident Evil's staple baddies. There's no word on just what beasties will be included via the Steam Workshop, but RE has a pretty massive bestiary, so there's plenty for the companies to pick from.
Resident Evil 6 launches on Steam on the 22nd of this month and the DLC for the game is expected to arrive on April 5h. As for Left 4 Dead 2's RE inclusions, there is no firm date as of yet, but look for that later in the Spring.
Continue Reading >>> Source link