Upcoming Thor movie villain Malekith the Accursed returns to the Marvel comics universe in this issue, which is apparently proving quite the hit with fans.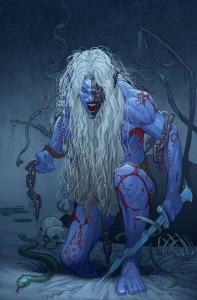 Getting a bit of synergy going with both their movie and comic universes, Marvel Comics brought back Malekith in a big way in issue 13 of Thor: God of Thunder and now the book has sold so well that it's heading back to print for a second run.
The leader of the Dark Elves and sworn enemy of Asgard and Midgard alike, Malekith broke free of his prison and began carving a swath through the Marvel U with only Thor to stand in his way. One of the Thunder God's lesser known foes, the deposed lord of the Dark Elves is a major threat and that's one of the reasons he was chosen to headline opposite the big guy in Thor: The Dark World, which'll be opening in theaters later this Fall.
The character in the film is largely the same as the comic version (other than his looks) and, from the way the trailers are playing out, he looks like he'll be just as big a pain for the Odinson as well.
Check out the issue that's been a critical darling in one of the best series that Marvel has running right now as Thor: God of Thunder #13 lands back at retail shops later this month. After you read up on Malekith the Accursed, check him out in live action as Thor: The Dark World brings the Dark Elves to the Marvel Cinematic Universe on November 8th.
Continue Reading >>> Source link