When an undead hitman goes after the NYPD, the Lobster steps in to figure out if it's a zombie, or worse. Find out more in Lobster Johnson: Garden of Bones.

Lovely Location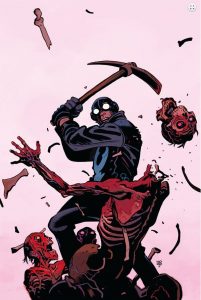 Freegrove, New Jersey, 1935. We find Lobster and his sidekick Harry in a cemetery in a thunderstorm. Holding digging equipment. Lobster suspects a dead man's been brought back to life with the help of Voodoo, but Harry's not convinced.
Harry know's the history of Big Benny Jeunot, the man they are looking into. A gambler and muscle-for-hire, gunned down and buried proper by a minister. People are saying that Benny has come back from the grave. Though Harry's family has some voodoo pracitioners, and he knows these things can't be true. Buried as he was, where he was. Something doesn't make sense. And what is with the calling card?
Dark Days
Harry checks out the caretaker's shed, looking for clues, or at least more digging equipment. While he is gone, Lobster is met with the sounds of sweet gunfire. A gunman is wielding two pistols, contently aimed at our protagonist. Lobster is unable to reload, due to the raining of bullet fire. Lobster is about to resort to plan B when he hears a loud boom.
"…and now, finally, Justice."
He looks beside him, to find the body of his attacker at his side, face down in the mud. Harry's findings were definately not pleasant, but he located sufficient firepower to put this man down. In discussing where the man came from, they realize he may not have been alone in this garden of bones.
Once in the crypt, our heroes find more than they expected. There's a dinner going on between people of several faiths, it appears. They enlighten us as to what really happened to Big Benny, and how they were able to make things go their way. But before they are done, Lobster and Harry will find themselves outnumbered, with their backs against the wall. You won't believe what it takes to get them out of this one!
Deeper Dangers
This was a new dive into the Mignolaverse for me, as many of them seem to be as of late. I had only recently heard of Lobster Johnson, and was interested to see what sort of lawman he was out to be. I was not disappointed. Lobster is a man of few words, content to let his actions take care of things for him. As usual, Mignola and Arcudi have a way of carrying the story with ease. Artists Green, Stewart and Zonjic perfectly put you into a position where you feel what sort of trouble these boys could get into.
Lobster Johnson: Garden of Bones hits store shelves on January 11, 2017 for $3.99.
Lobster Johnson: Garden of Bones
Writer: Mike Mignola, John Arcudi
Artist: Stephen Green
Colorist: Dave Stewart
Cover Artist: Tonci Zonjic
Continue Reading >>> Source link