Mad Catz' ST.R.I.K.E. series of gaming keyboards continues to expand with the entry-level S.T.R.I.K.E. 3.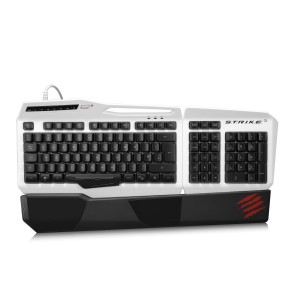 If you're familiar at all with the Strike line, then you know how incredible the series is. And if you're not familiar with it- check out our review of the S.T.R.I.K.E. 7 right here. Yep, it's that good.
Where the new Strike 3 (too many periods) differs from earlier models is that it's an entry-level 'board designed for users who don't really want to buy in to the higher echelons exemplified by the 7 and 5 models. Now that's not to say that the 3 is sans bells and whistles though, because it's anything but.
The Strike 3 features the same membrane key-bed from the other models that's designed to offer gamers the same experience as a mechanical-key setup, but with quieter operation and less maintenance. The 3 also offers full media controls, a removable wrist-rest, an RGB back-light capable of 16 million colors, twelve macro keys and three separate modes of operation. And what that last part means is that the 3 has a selection of 36 programmable buttons in all, which is definitely enough to get you pretty much any control option you can think of.
The Strike 3 is available right now for the PC from Mad Catz in red, white and black.
Continue Reading >>> Source link