The upcoming micro-console from peripheral masters MadCatz will be on store shelves just in time for the Holidays.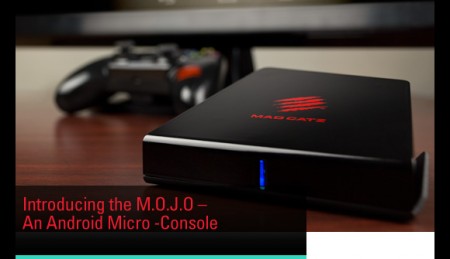 Who doesn't want a little M.O.J.O. for Christmas?
MadCatz announced that the micro-console, which allows for the playing of Android-based games on television, will be available on December 10th- albeit in limited quantities -and will cost you $249.99 USD or £219.99 in the UK.
"The M.O.J.O. Micro-Console for Android has attracted strong interest due to its high-performance hardware, open software platform and the ecosystem of accessories," said Darren Richardson, the President and Chief Executive Officer of Mad Catz Interactive, Inc. "M.O.J.O. is the center piece of our GameSmart™ mobile initiative and brings core gaming experiences to the mobile platform."
I actually had the chance to have a look at the console and play with the UI at the SDCC this past July and it looked pretty impressive. MadCatz is certainly throwing quite a bit of marketing muscle behind the little gaming machine too, which says something about their belief in it.
Here's your spec list:
NVIDIA® Tegra®4 T40S 1.8GHz Processor
2GB RAM
16GB internal storage
HDMI out capabilities with full 1080p resolution
Bluetooth
microSD™ Flash Slot with support for SDXC™ Cards up to 128GB
Wi-Fi 802.11 a/b/g/n
Android 4.2.2 operating system.
Want some M.O.J.O.? Click here to pre-order.
Continue Reading >>> Source link