Ubisoft and the Starz channel are teaming for more than just the upcoming free to play game based on Spartacus- they're kicking off a contest where you can make some in game gear of your own.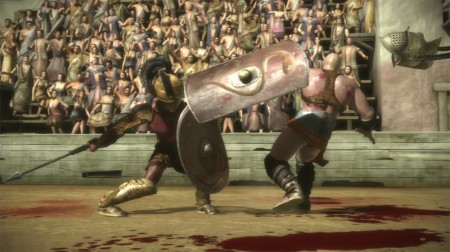 Spartacus Legends places players in the role of Lanista and owner of a stable of elite fighting gladiators. The brutal one-on-one combat title challenges you to raise your fighters up from the ranks of the nameless fodder to glory… or get stabbed and forgotten about. Either way.
The Spartacus Gear of Legends contest (running now on the game's Facebook page), challenges would-be armor and weapon smith's to create a new piece of gear that will be featured in the final release of the game. There's a category for each (so I guess you technically have two chances to win) and the winner will be chose by the television show's star Liam McIntyre and creator Steven DeKnight, among others.
Those designs, whatever they might be, will then be actually incorporated into the final game when it sees release on consoles. So there's a little piece of videogame glory and immortality up for grabs. Maybe it's not as big a rush as having legions of Romans cheering for you- but then again, there's no chance your head will end up on a pike either now is there?
Spartacus Legends launches in early 2013 for the PS3 and Xbox 360.
Continue Reading >>> Source link