Available today exclusively on comiXology and Kindle for $2.99 & free to comiXology Unlimited subscribers.
Marvel Unveils…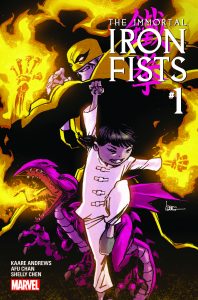 During yesterday's Next Big Thing Panel at Comic-Con International San Diego, Marvel Entertainment unveiled that it is joining forces with comiXology, Amazon's premier digital comic shopping & reading service, for a line of exclusive digital comics. Available free to comiXology Unlimited subscribers and only available through comiXology and Kindle these comics will be part of the comiXology Originals line of exclusive digital content.
Immortal Iron Fists
Marvel and comiXology's team-up kicks off with Immortal Iron Fists, a 6-issue bi-weekly series written by Kaare Andrews with art by Afu Chan. Immortal Iron Fists is on sale today for $2.99 on comiXology and Kindle or free to comiXology Unlimited subscribers as part of their subscription. New users to comiXology's popular subscription service can also access Immortal Iron Fists for free as part of their 30-day free trial. Additional exclusive series will be announced soon.
Continue Reading >>> Source link