X-Men past, present and future collide in a mega-mutant crossover like none other.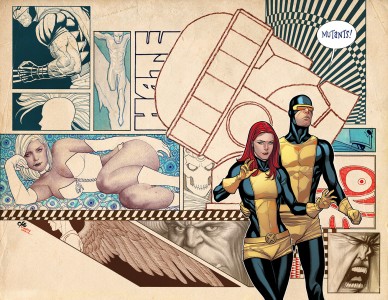 It's hard to believe, but there hasn't been a big X-Men only crossover in the Marvel U in over three years. It's even harder to believe that the characters have been around for a staggering 50 years. Landmarks like that deserve a celebrations and this is one that'll ring in with a bang.
The creative team of Brian Michael Bendis, Jason Aaron, Brian Wood, Frank Cho, Stuart Immonen, Chris Bachalo, David Lopez & Giuseppe Camuncoli present one beast (pardon the pun) of a tale that Marvel promises will shake things up and put a capper on the saga of the time traveling X-Men.
"If All-New X-Men #1 was the shot heard round the world, X-Men Battle Of The Atom is Valley Forge," explained Nick Lowe, Senior Editor, Marvel Entertainment. "And there's no group of creators I'd rather go to war with than Brian [Bendis], Jason [Aaron] and Brian [Wood]. And that doesn't even mention the murderer's row of artists."
Starting in September and running through October, Battle of the Atom is a 10 part miniseries (told you it was a big one). In all, the story will play out in:
Part 1: X-Men Battle of the Atom #1
Part 2: All-New X-Men #16
Part 3: X-Men #5
Part 4: Uncanny X-Men #12
Part 5: Wolverine & The X-Men #36
Part 6: All-New X-Men #17
Part 7: X-Men # 6
Part 8: Uncanny X-Men #13
Part 9: Wolverine & The X-Men #37
Part 10: X-Men: Battle of The Atom #2
The publisher is teasing unlikely allies, some kind of 'master plan' from S.H.I.E.L.D. and a whole lot of trouble from the merry mutants treating the timestream like their own personal playground.
I've been itching for Marvel to bring some cohesiveness back to the fractured X-universe for a while now and Battle of the Atom just might be the ticket. With three distinctly different era's of Marvel mutantdom colliding there are sure to be sparks (which is probably putting it mildly)- this might be one 50th that ends with a bang.
Continue Reading >>> Source link