The Fenris wolf awakens and it's up to the Warriors Three, the Thunder God, and Sif herself to stop him.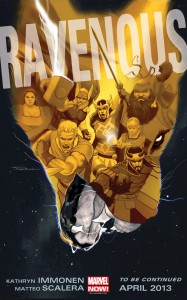 Journey into Mystery #651 casts Lady Sif in a starring role and follows her on a mission to stop the monstrous wolf who's been awakened by one of her own people.
The warrior Sif's might rivals that of the Mighty Thor, but when the ravenous Fenris is awoken by one of her own, even she is outclassed! In order to save her home, she must band together with the Warriors Three and Thor to stop him – but when everything they need to stop the beast never existed – things go from bad to worse!
I've become a pretty big fan of what Marvel has done with the more mythic aspects of their Universe in the Marvel NOW! era after not really being much of a Thor follower since Walt Simonson's run.
Happily, it sounds like Journey is going to keep the good stuff coming. With a little bit of tease for the book in mind, Marvel Editor-in-Chief Axel Alonso hints at an Asgardian power yet to be seen…
"In one of their darkest moments, the mighty Sif shows just how dangerous she can be," said Axel Alonso, Editor In Chief, Marvel Entertainment.  "And when she has the aid of her brethren at her side, the true power of Asgard won't ever be clearer! "
Look for Journey into Mystery #651 to hit comic shops this April from writer Katheryn Immonen and artist Matteo Scalera, with cover art by Jeff Dekal.
Continue Reading >>> Source link