The sequel to the miniseries that unveiled Wolverine's formerly shadow-cloaked past is set to reveal just how Marvel's most popular mutant met many of his greatest enemies- and how he became the X-Man he is today.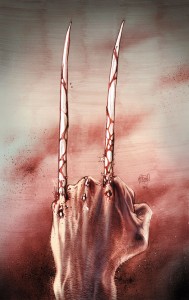 Set just a few years after James Howlett (Logan) went feral and distanced himself from the rest of humanity, Origin II sees him coming back to civilization in a way that Marvel promises will be unexpected. Coming from writer Kieron Gillen and superstar artist Adam Kubert (who's one of my personal faves), Origin II will show the transformation Wolverine made that took him from wild man to X-Man like no other book ever has.
"When we last saw Logan at the end of Origin, he was broken—barely straddling the line between man and animal," said series writer Kieron Gillen. "But how did he transform himself from a wild recluse and into the groomed warrior he is today? That was always been a transformation I've wanted to explore."
Gillen is promising a lot in the sequel to one of the more controversial X-books to see release. Not only will we get a further view into Wolverine's still pretty clouded past, but we're also getting to see a very early (historically speaking anyway) version of the villainous Mr.Sinister. But this being an important book is exactly why talent like Gillen and Kubert are involved according to Marvel editor Janine Schaefer.
"You don't play it safe when it comes to Wolverine's sketchy past," said editor Jeanine Schaefer. "That's why we've brought out the big guns—Kieron Gillen and Adam Kubert—to give Logan the superstar treatment he deserves."
Get ready for some twists, turns and probably more than a few surprises when Wolverine: Origin II #1 hits stands this November from Marvel Comics.
Continue Reading >>> Source link